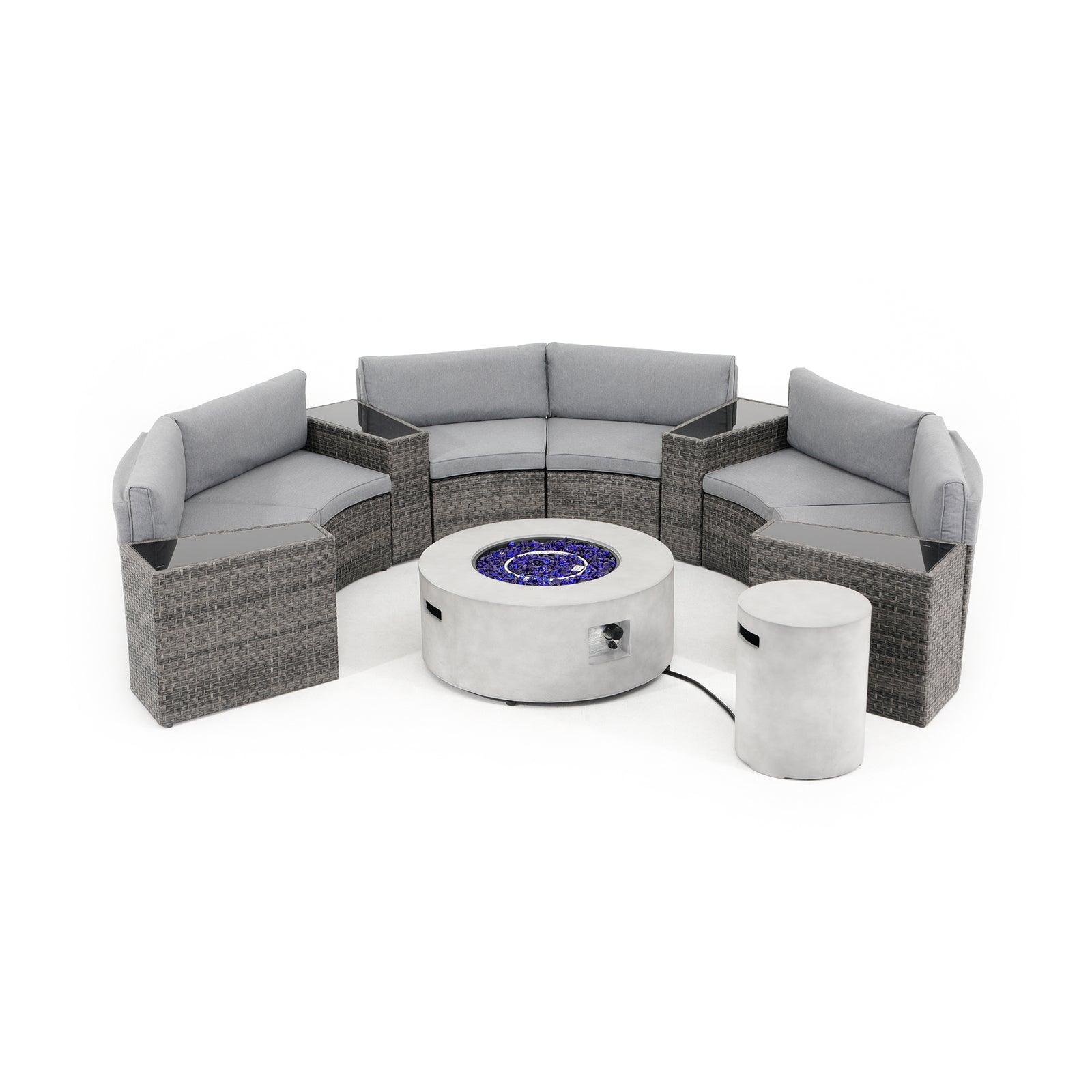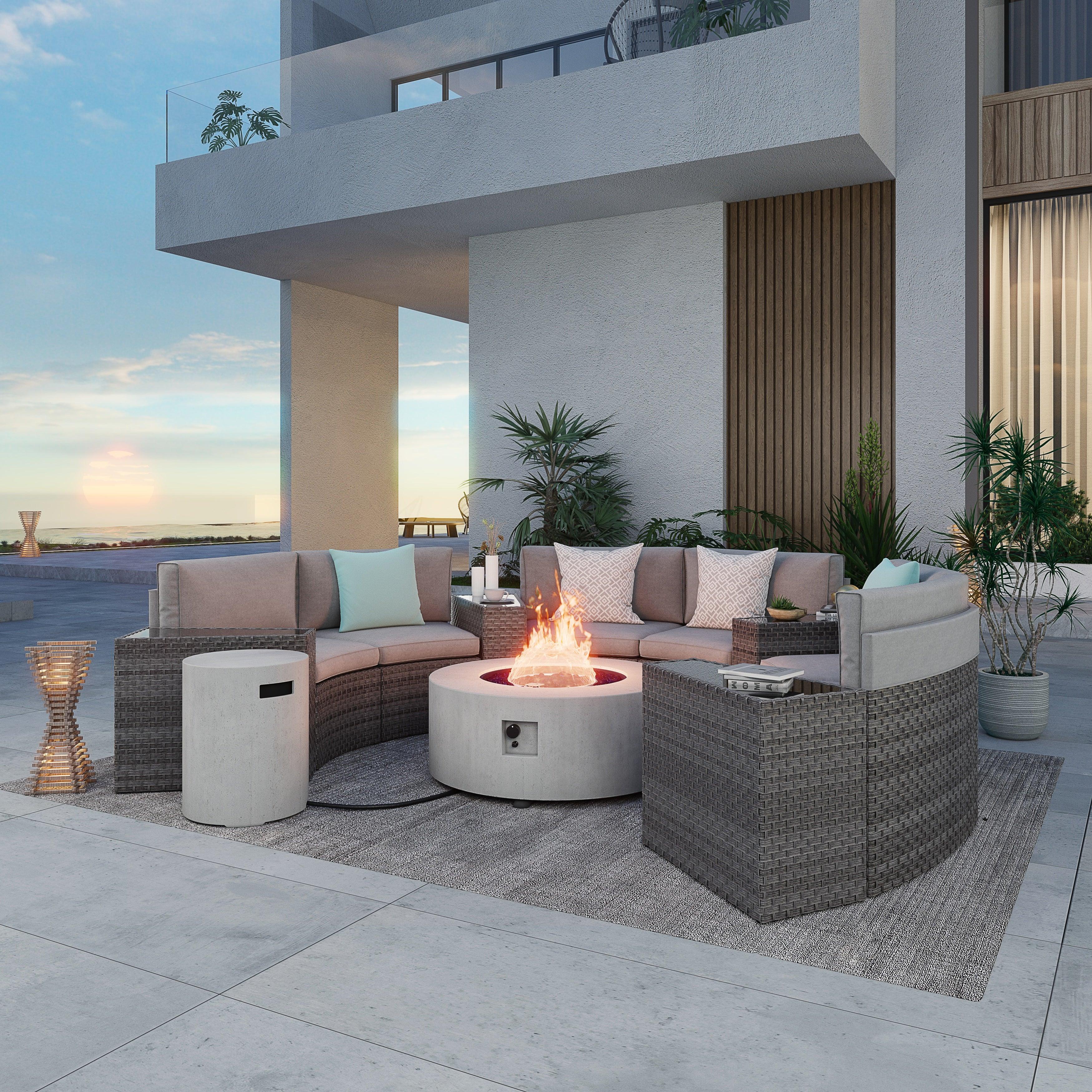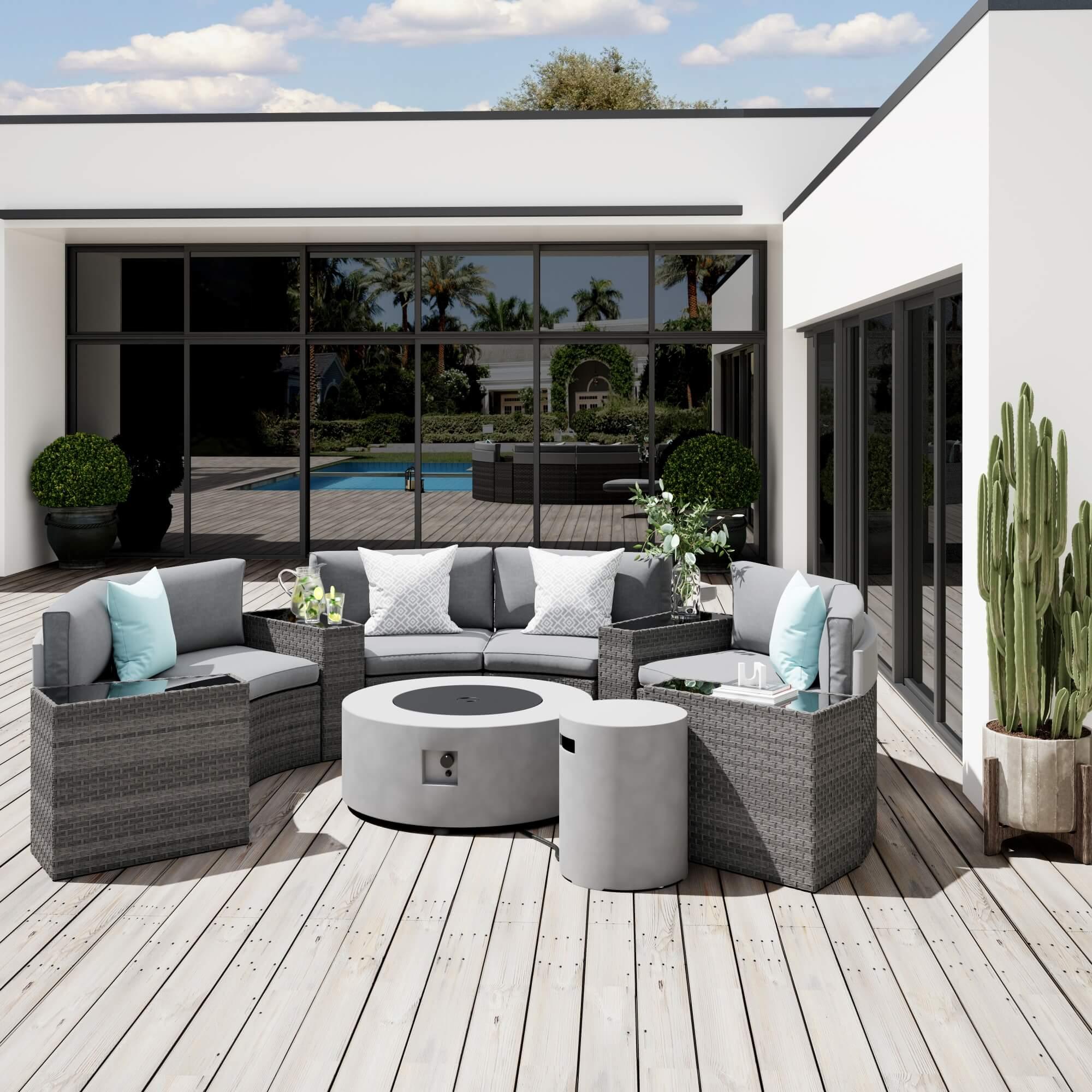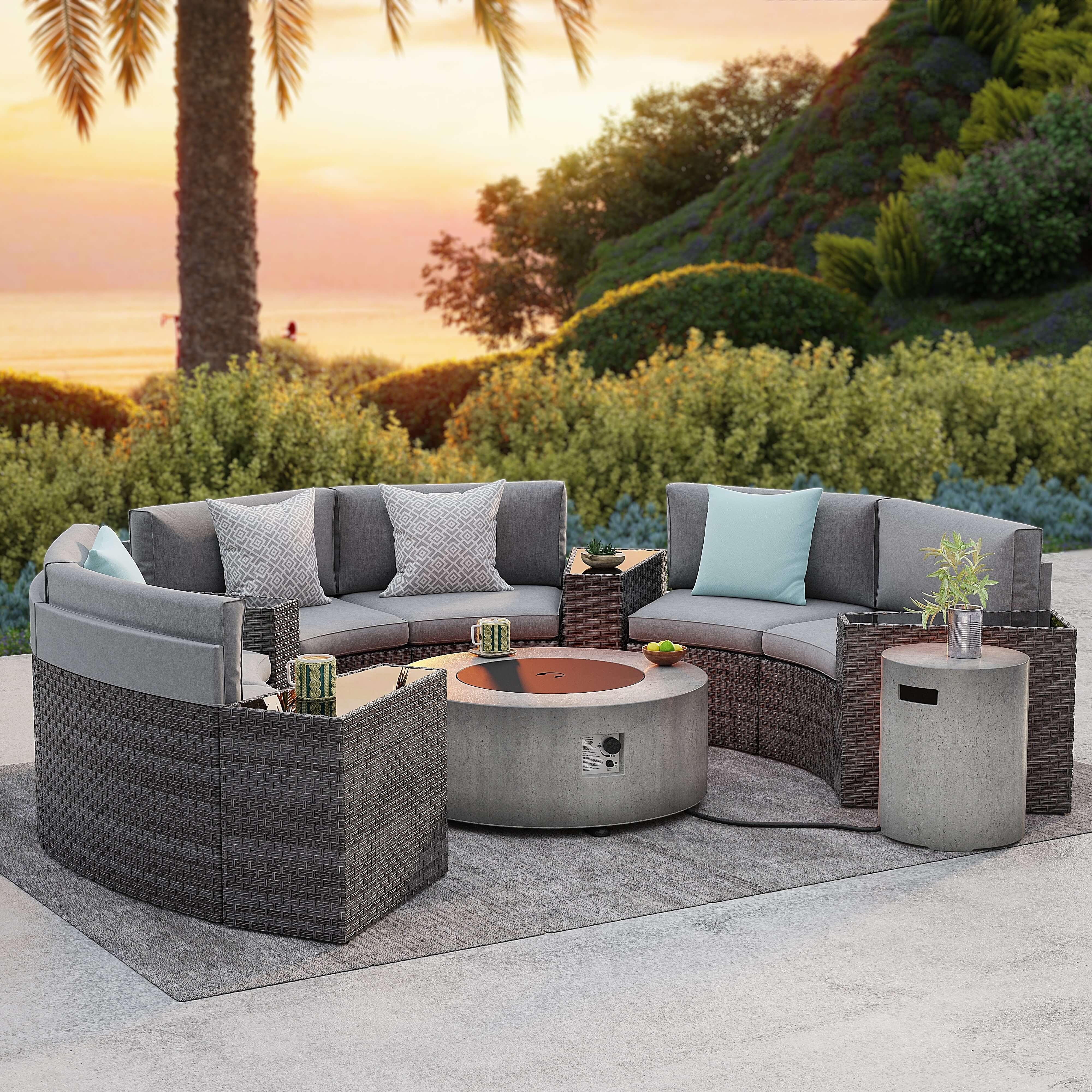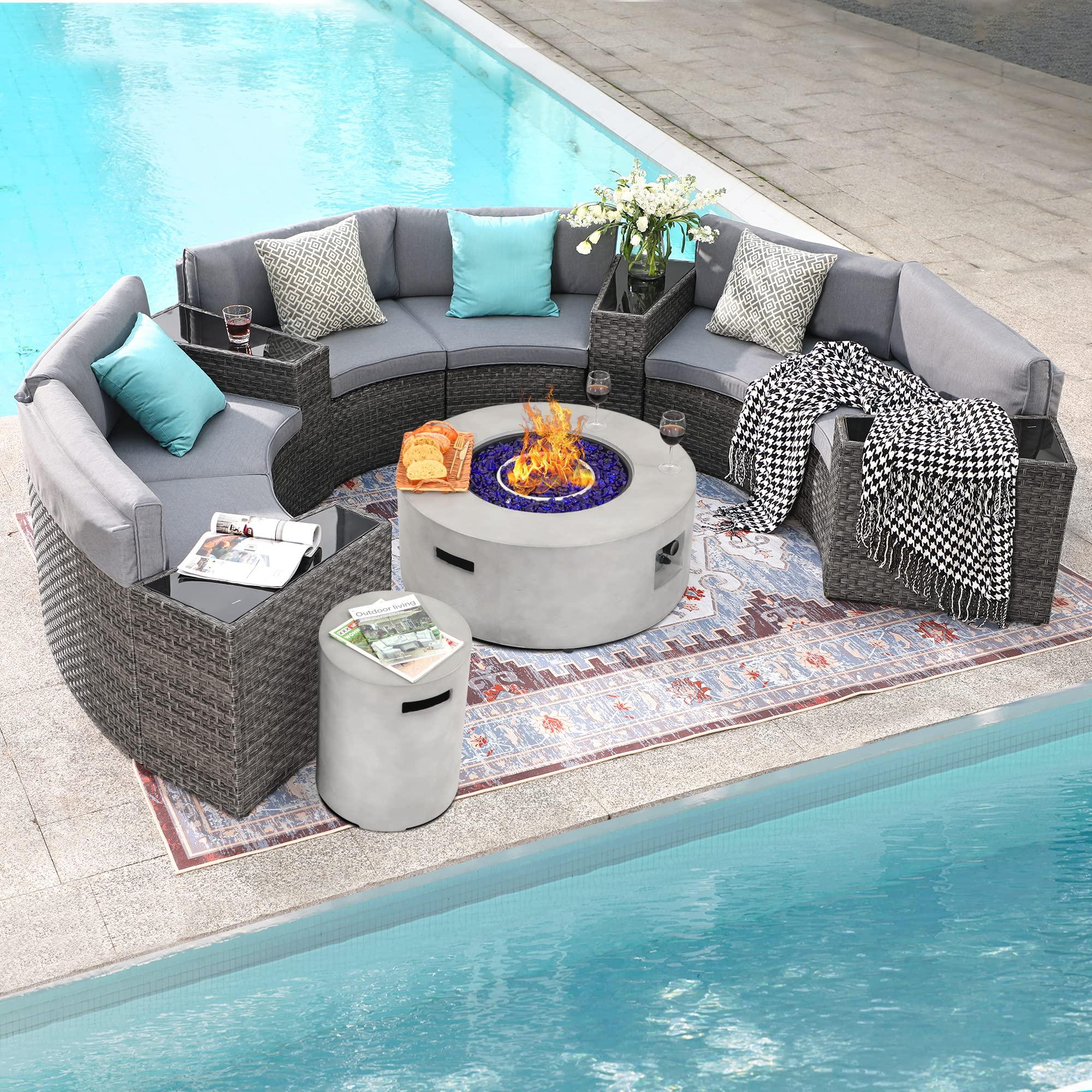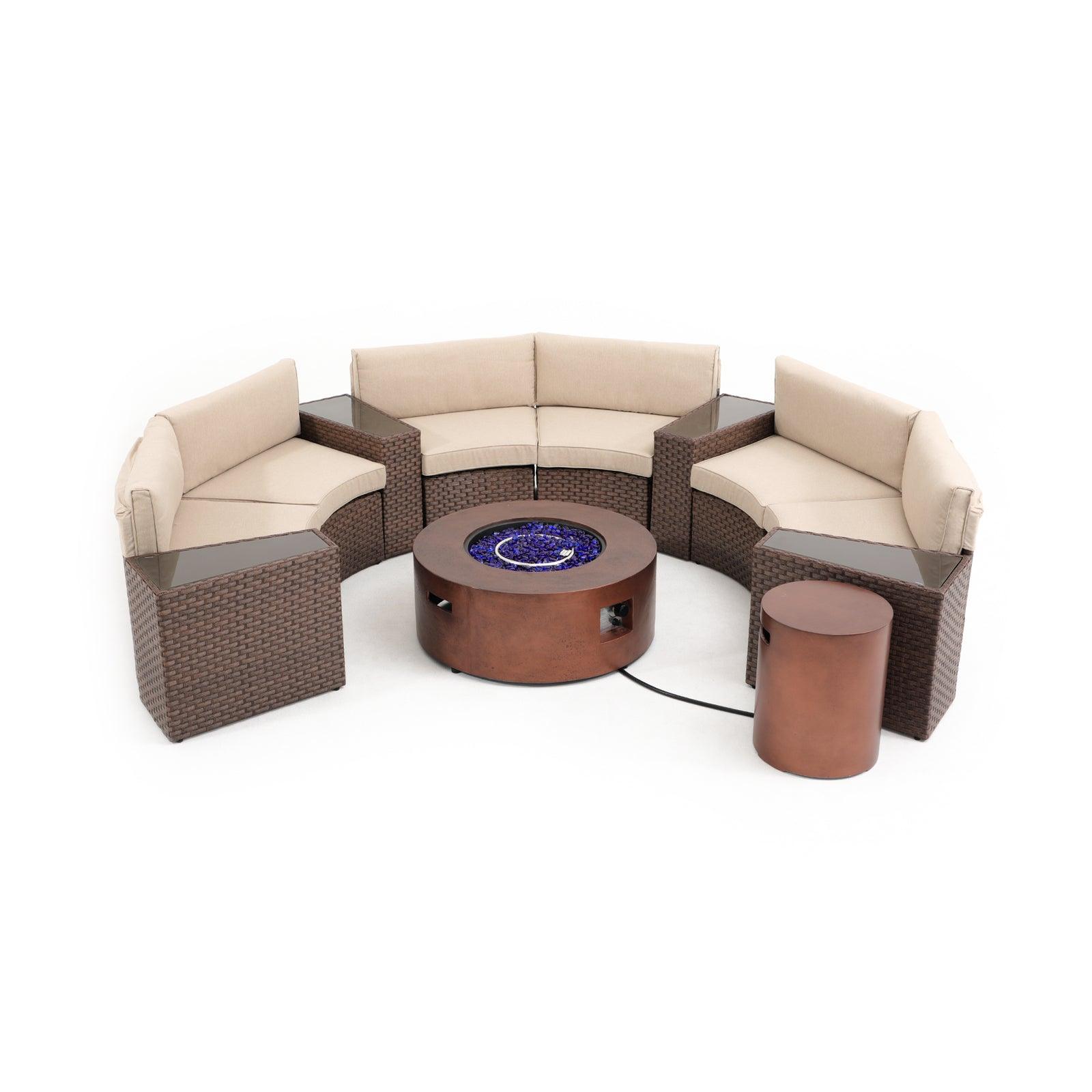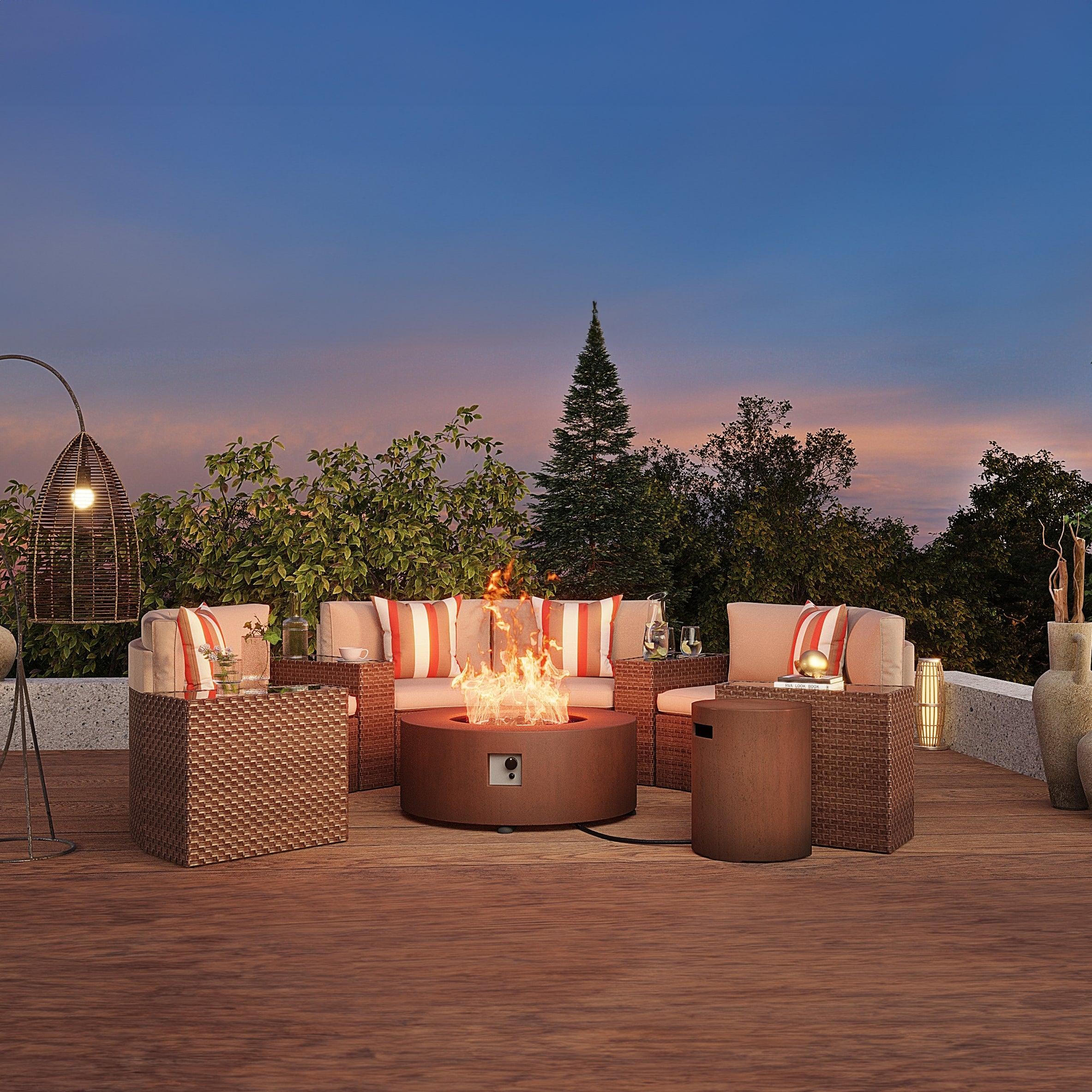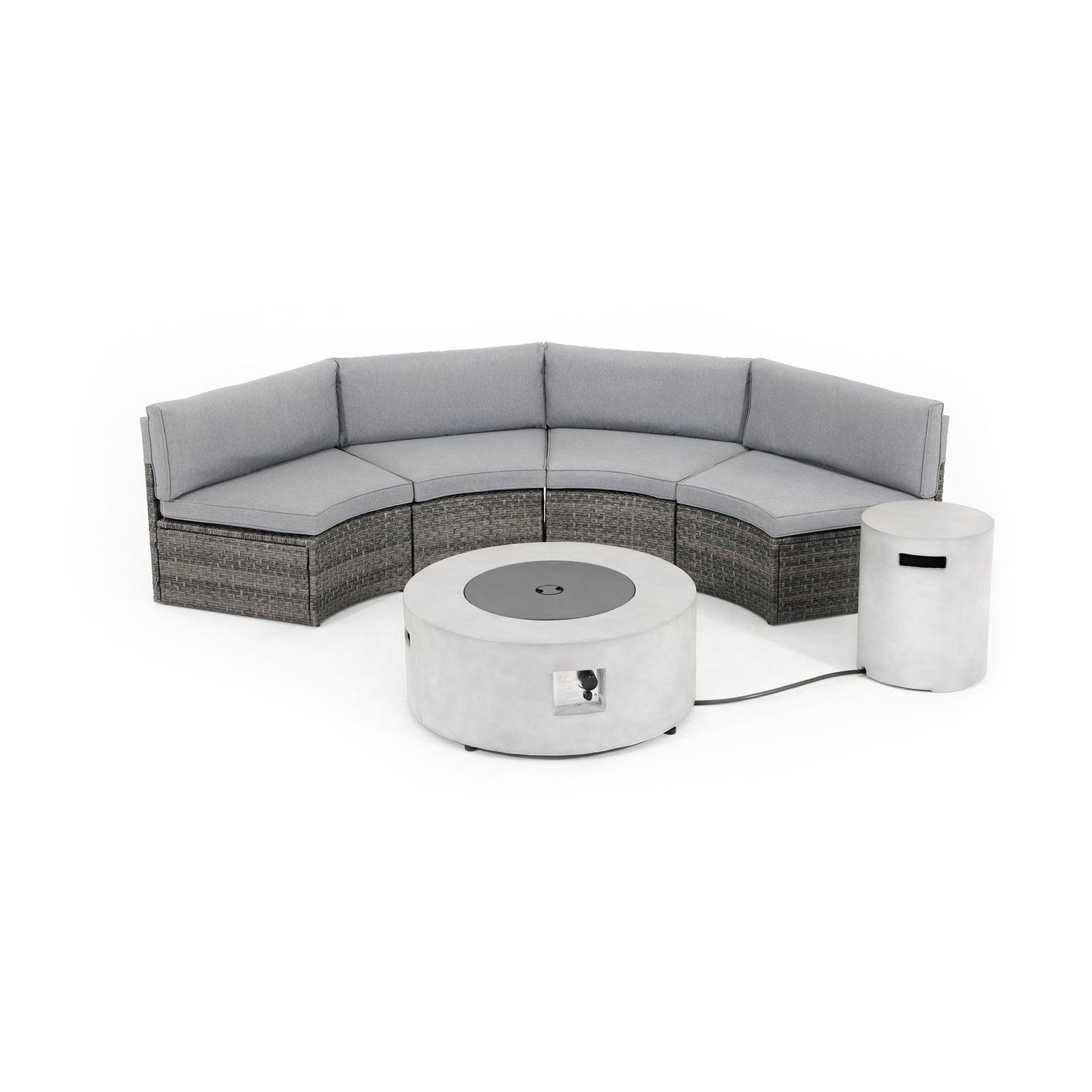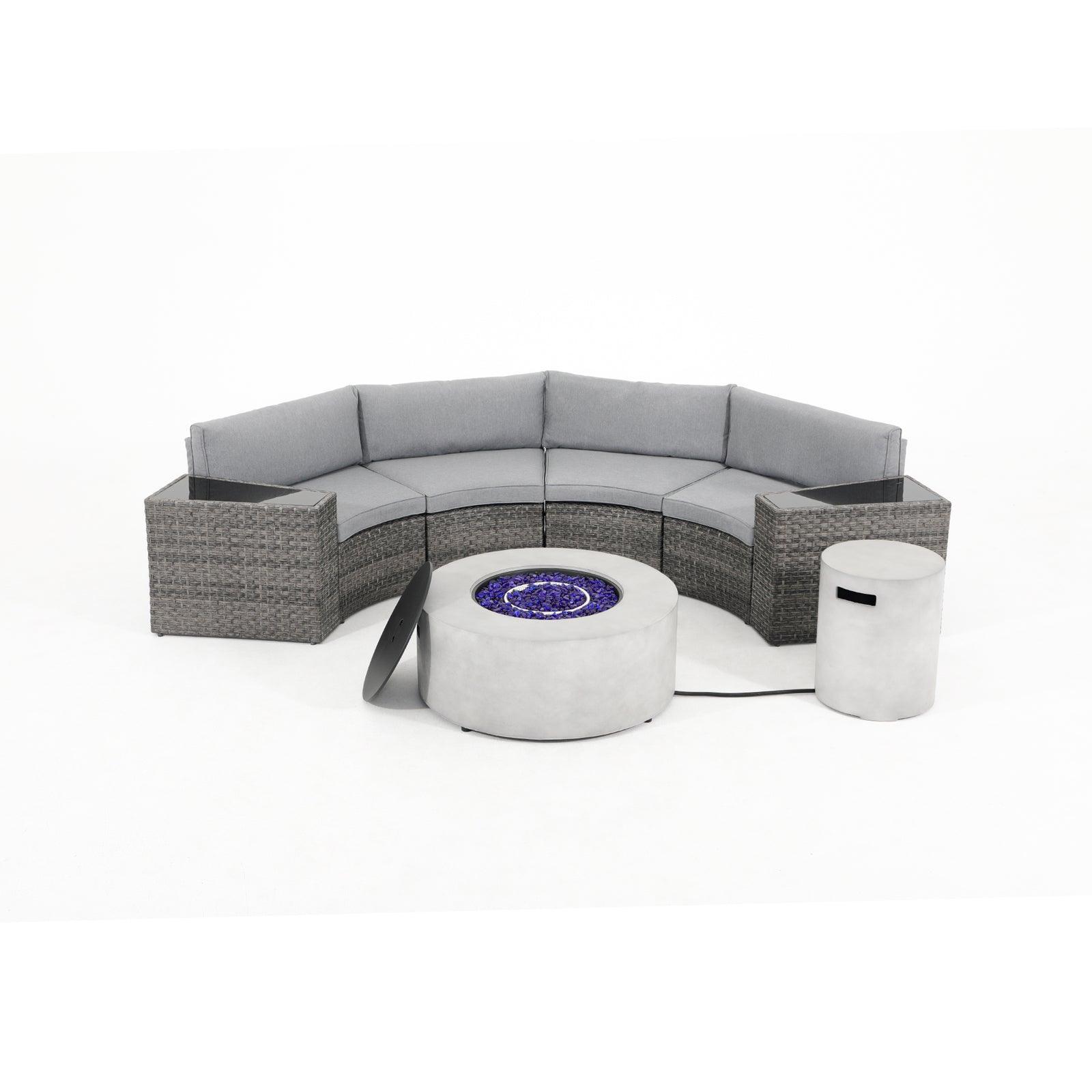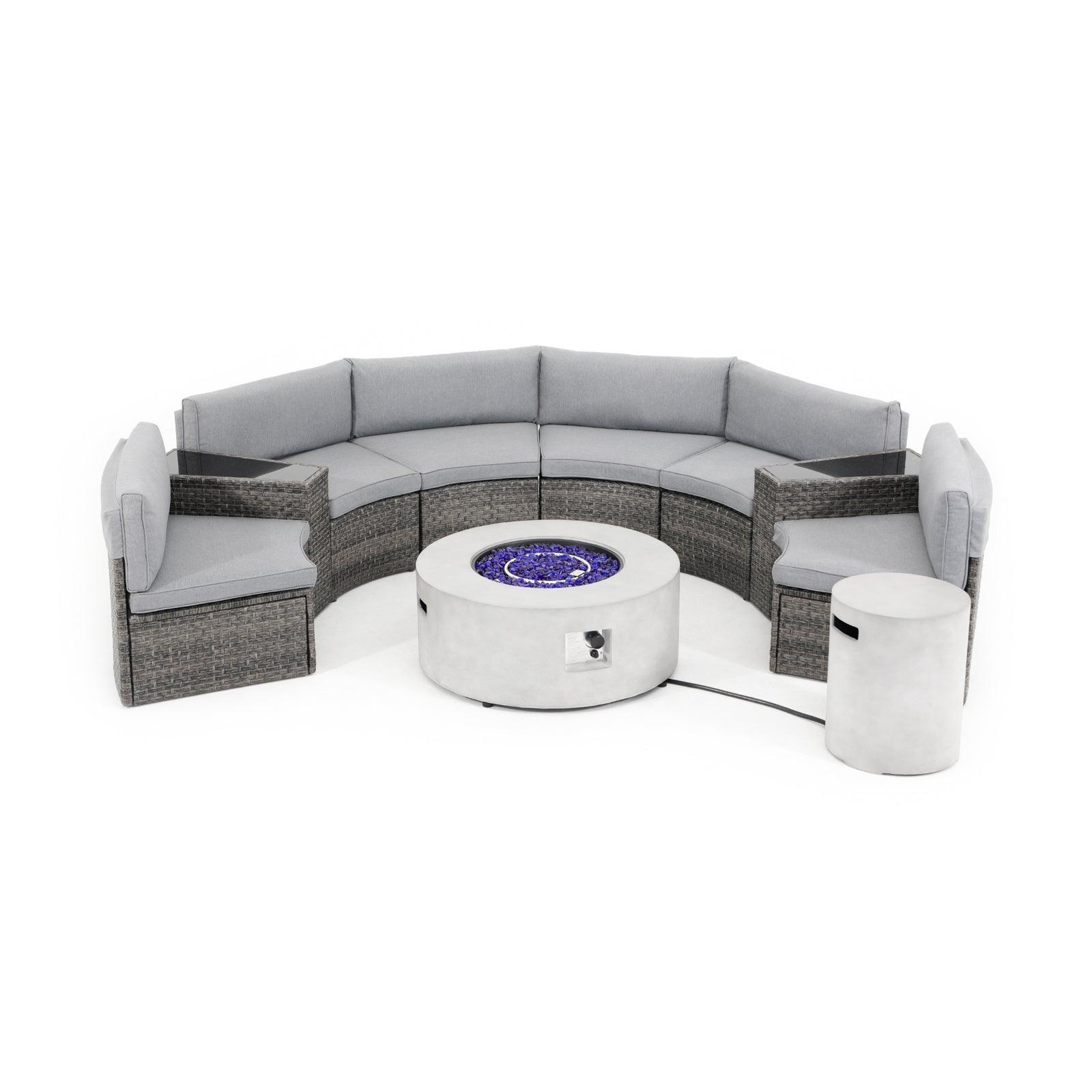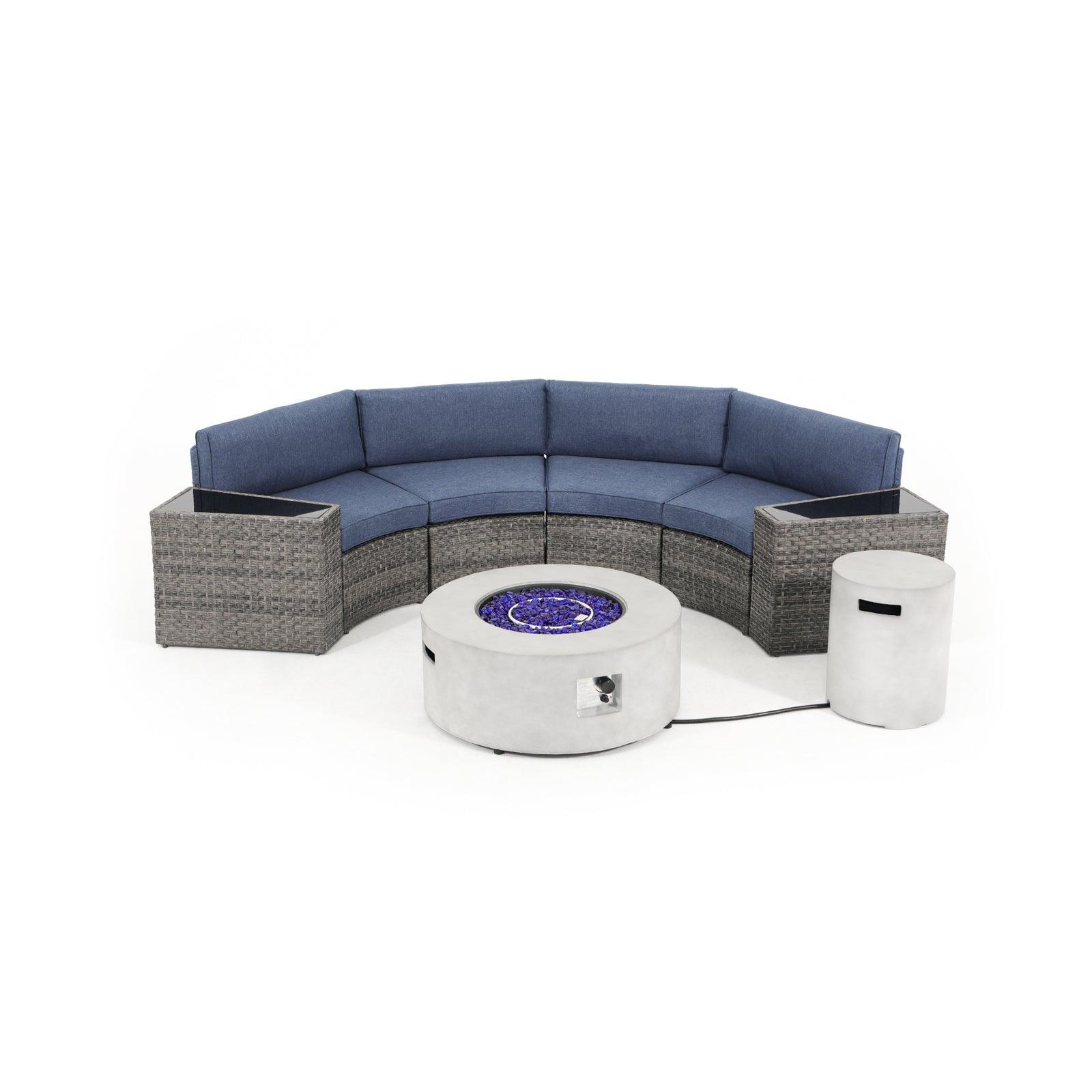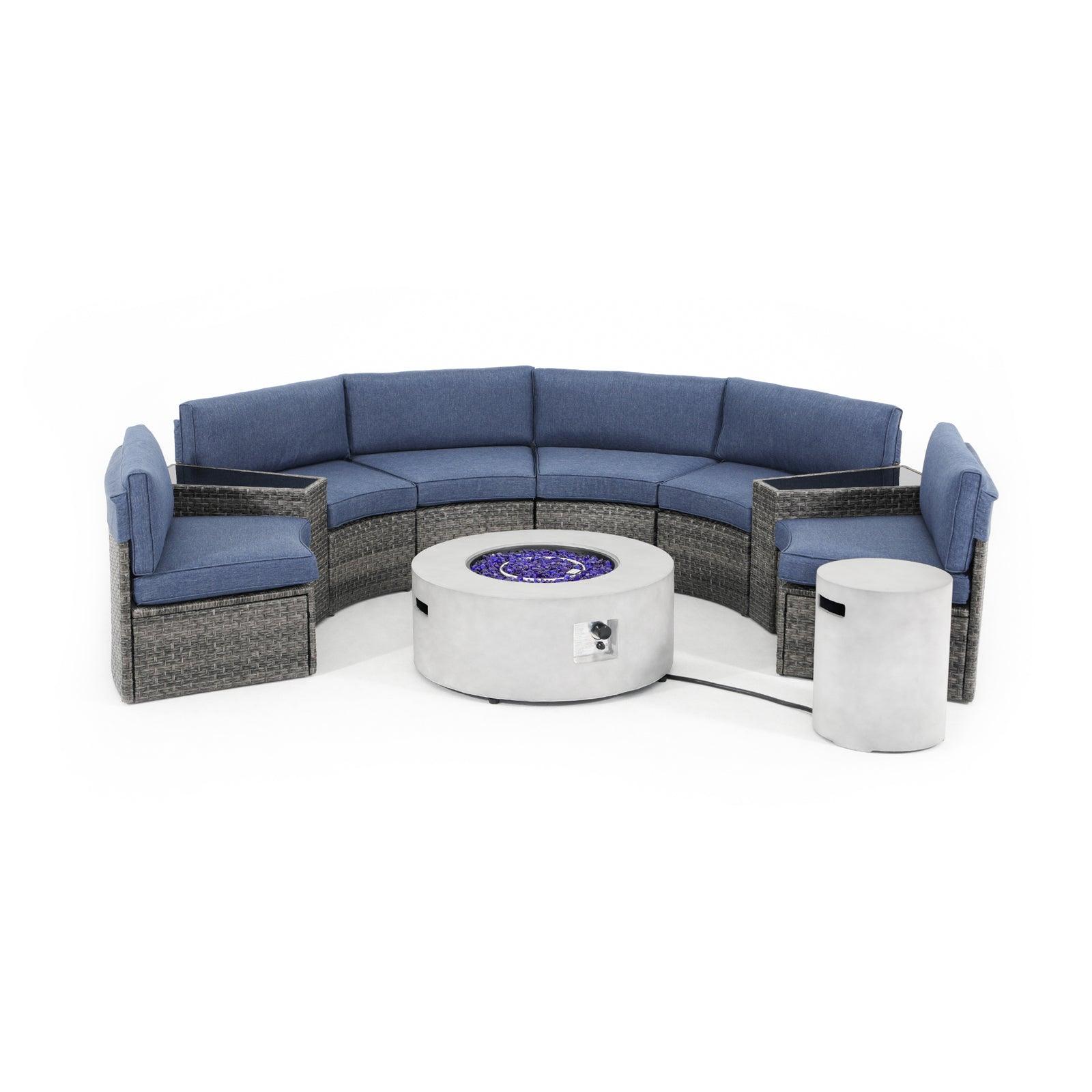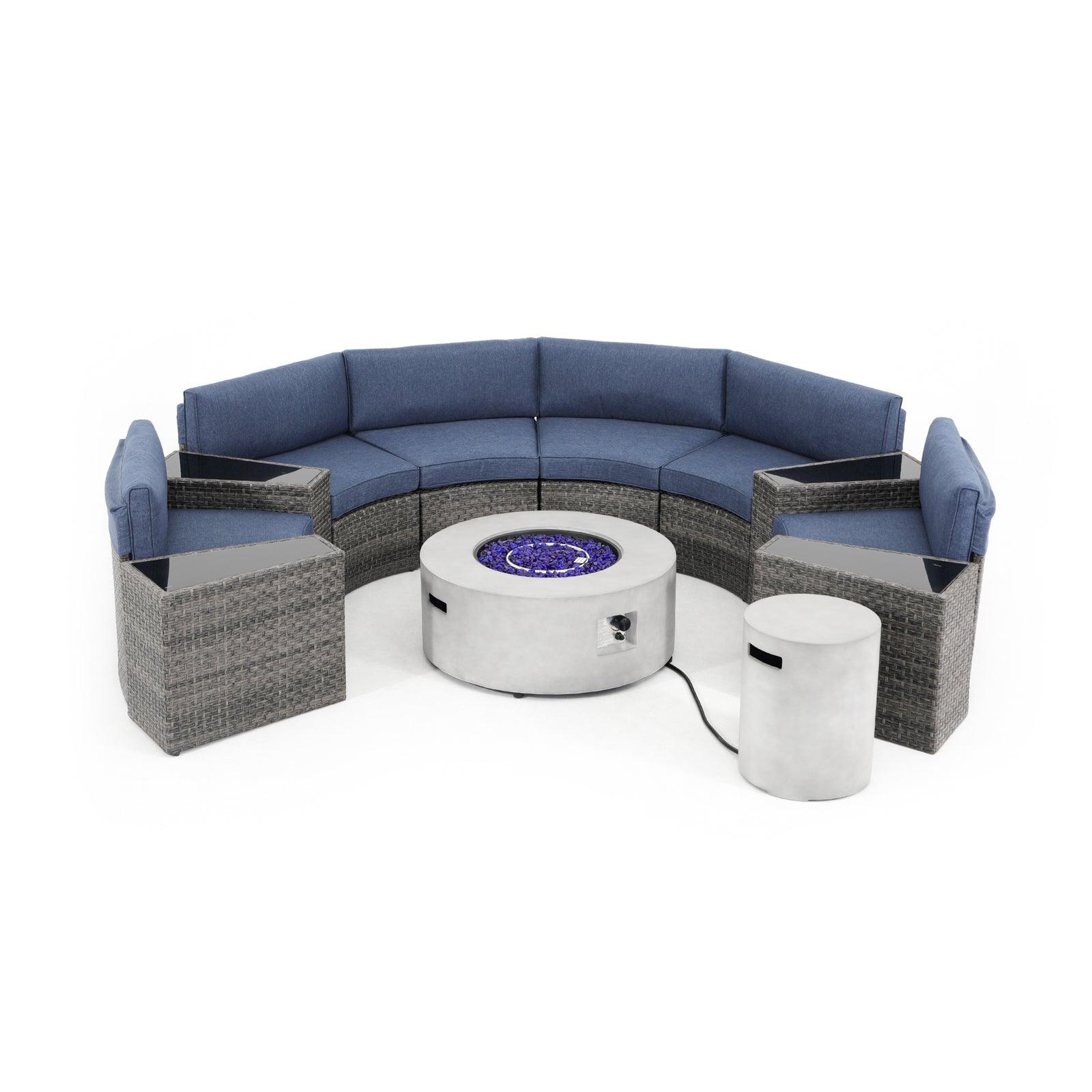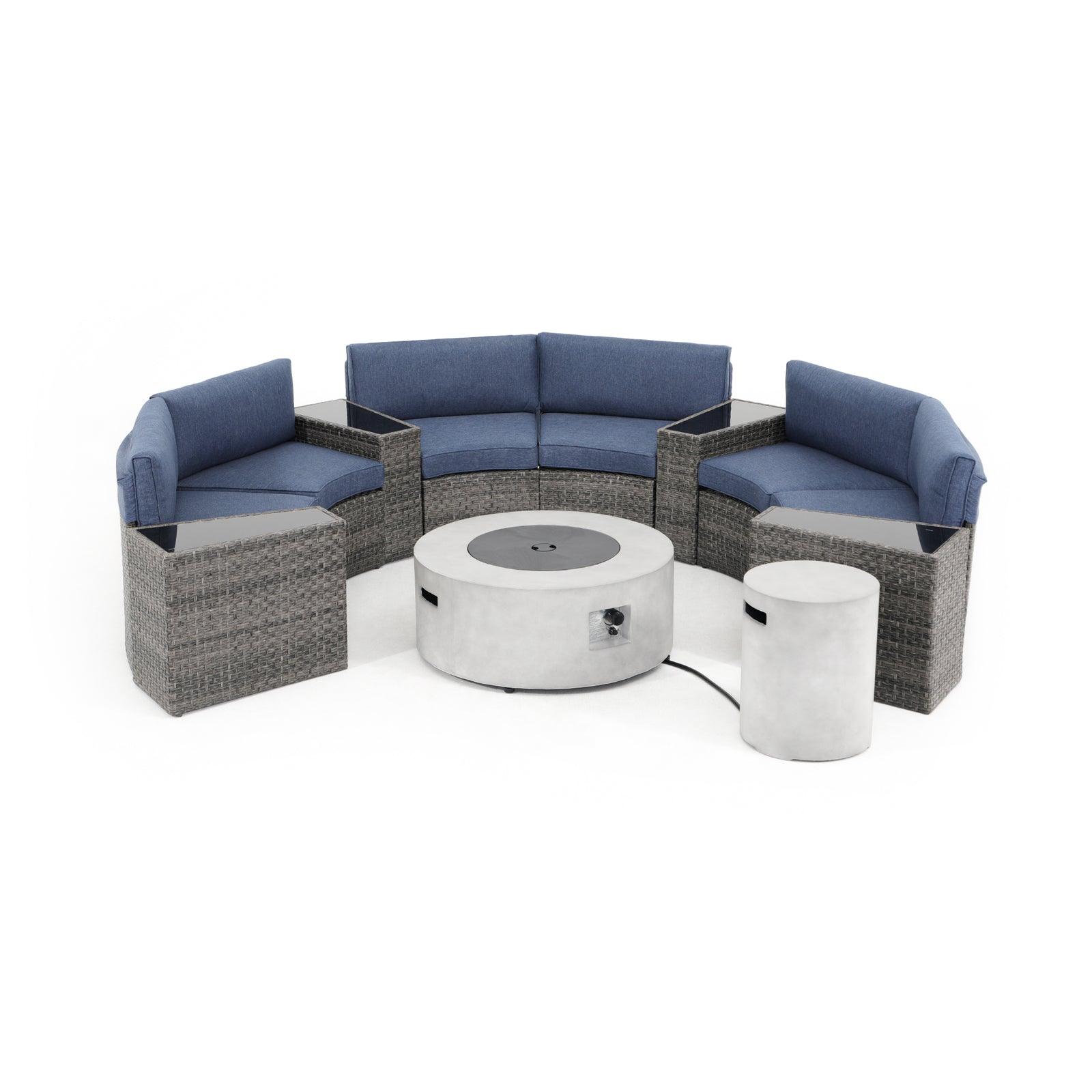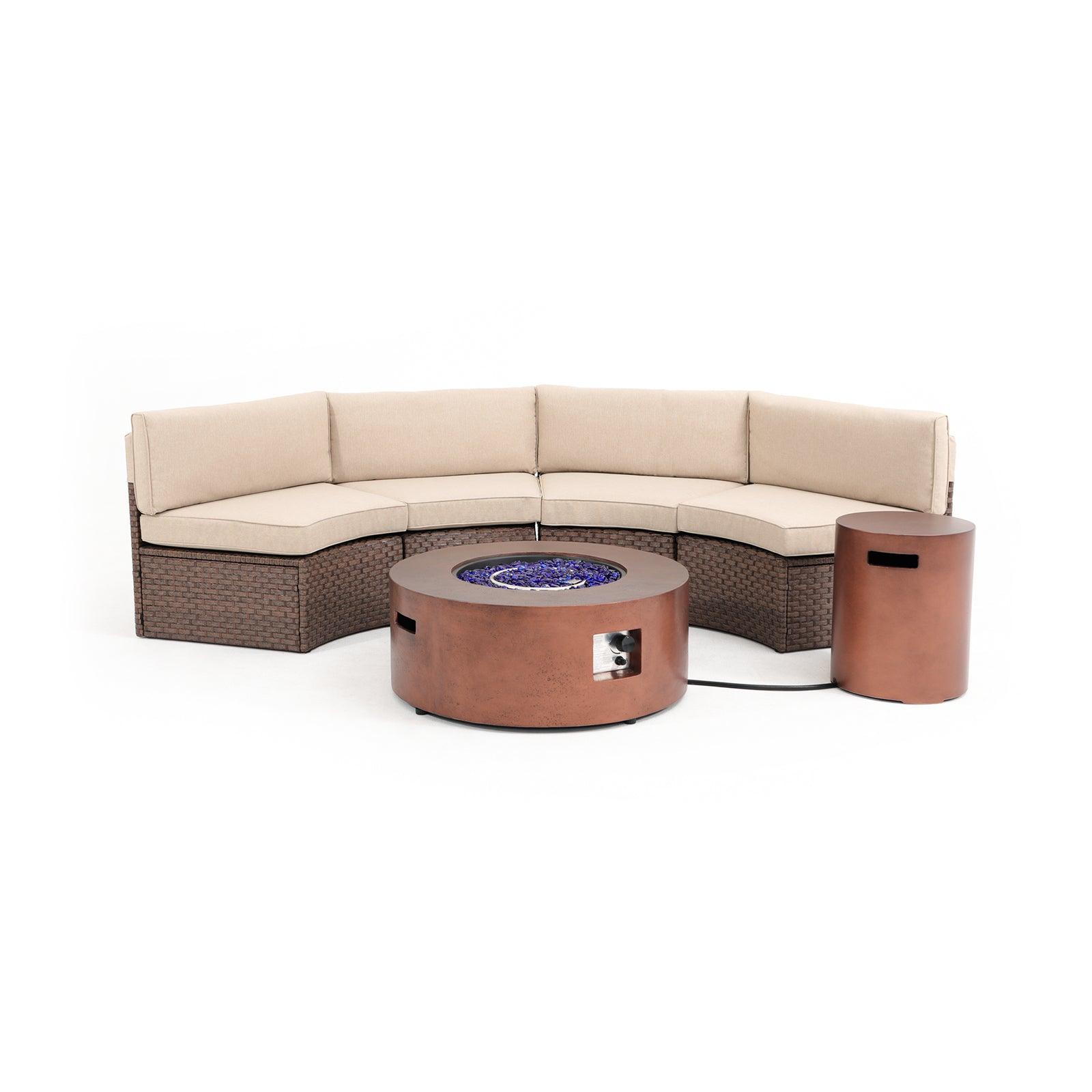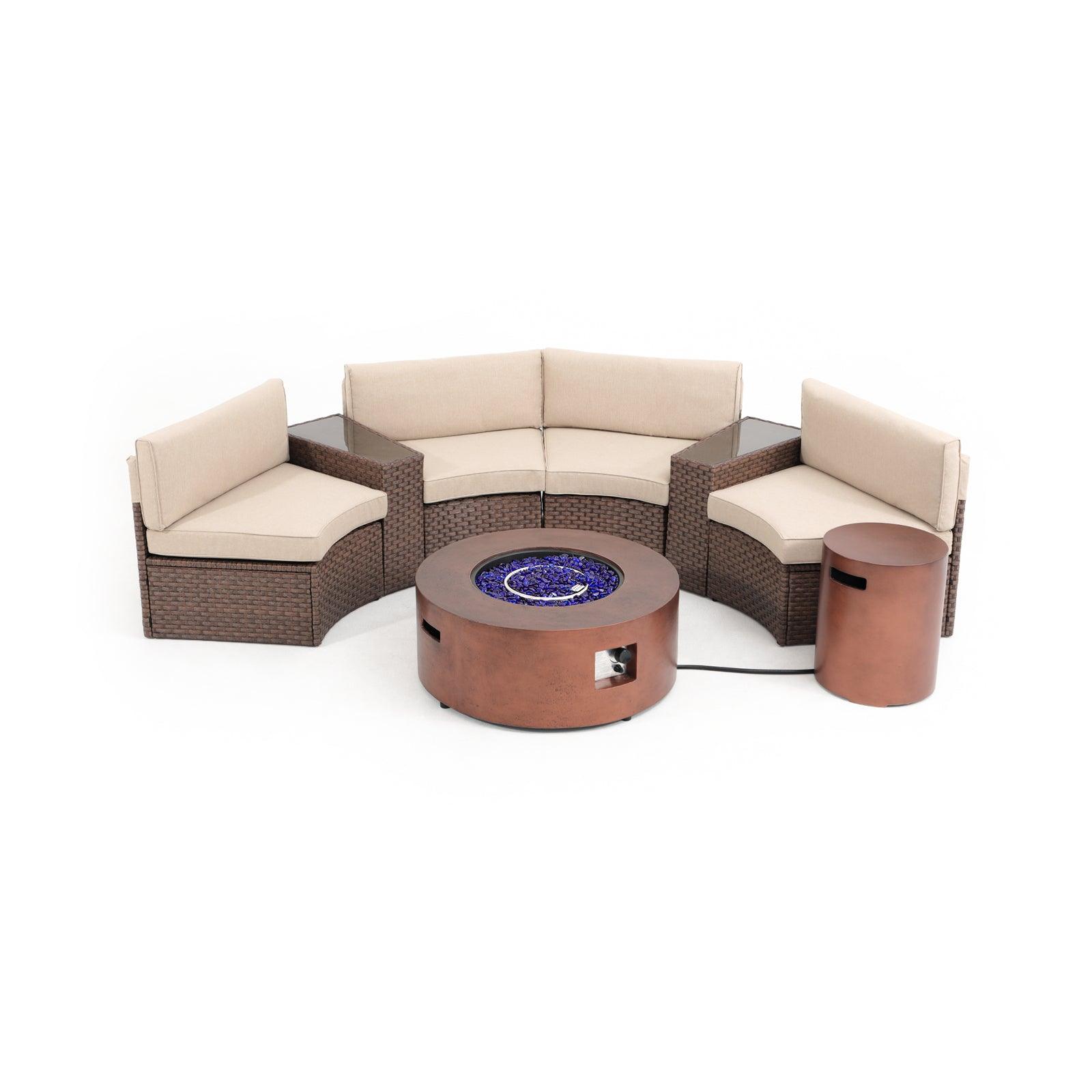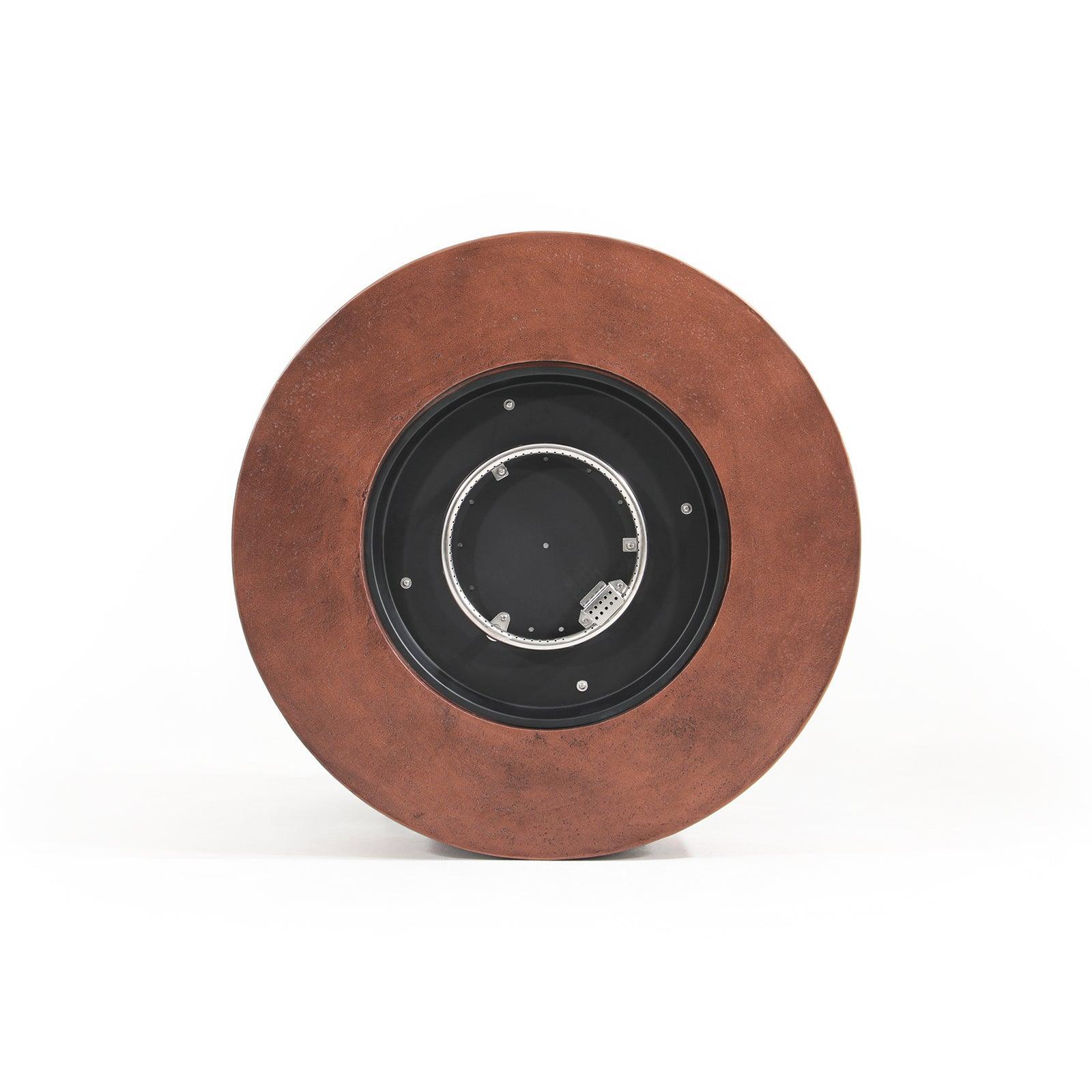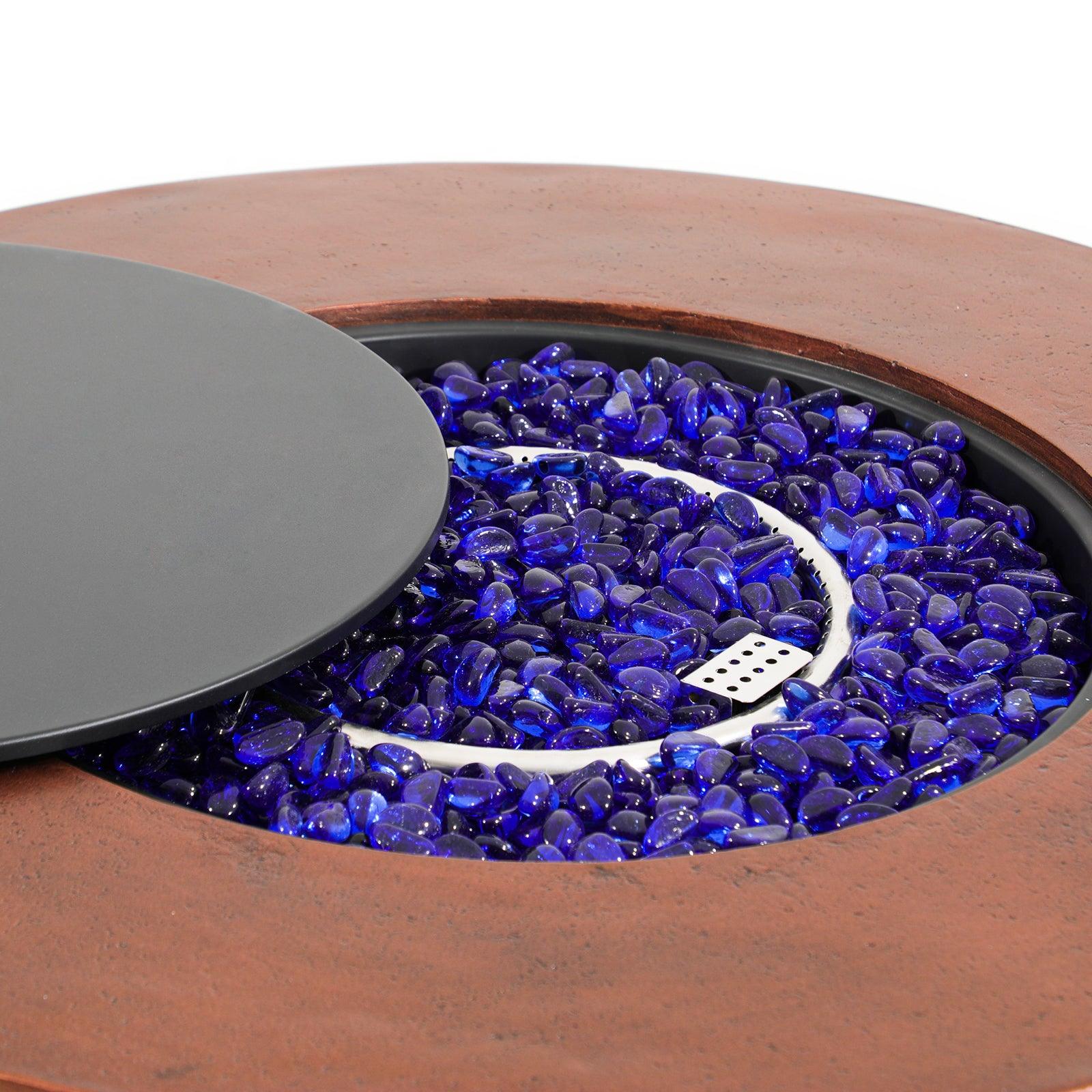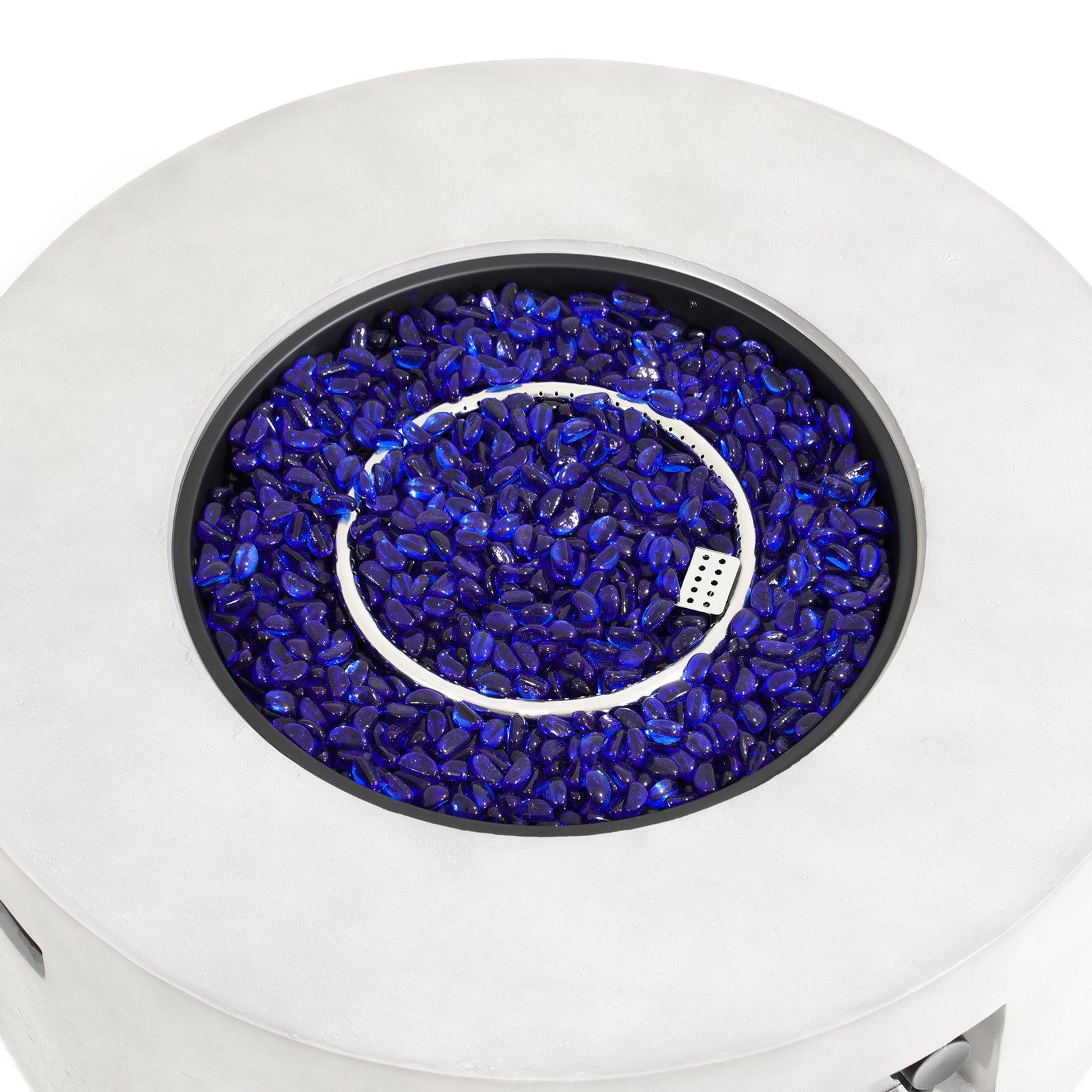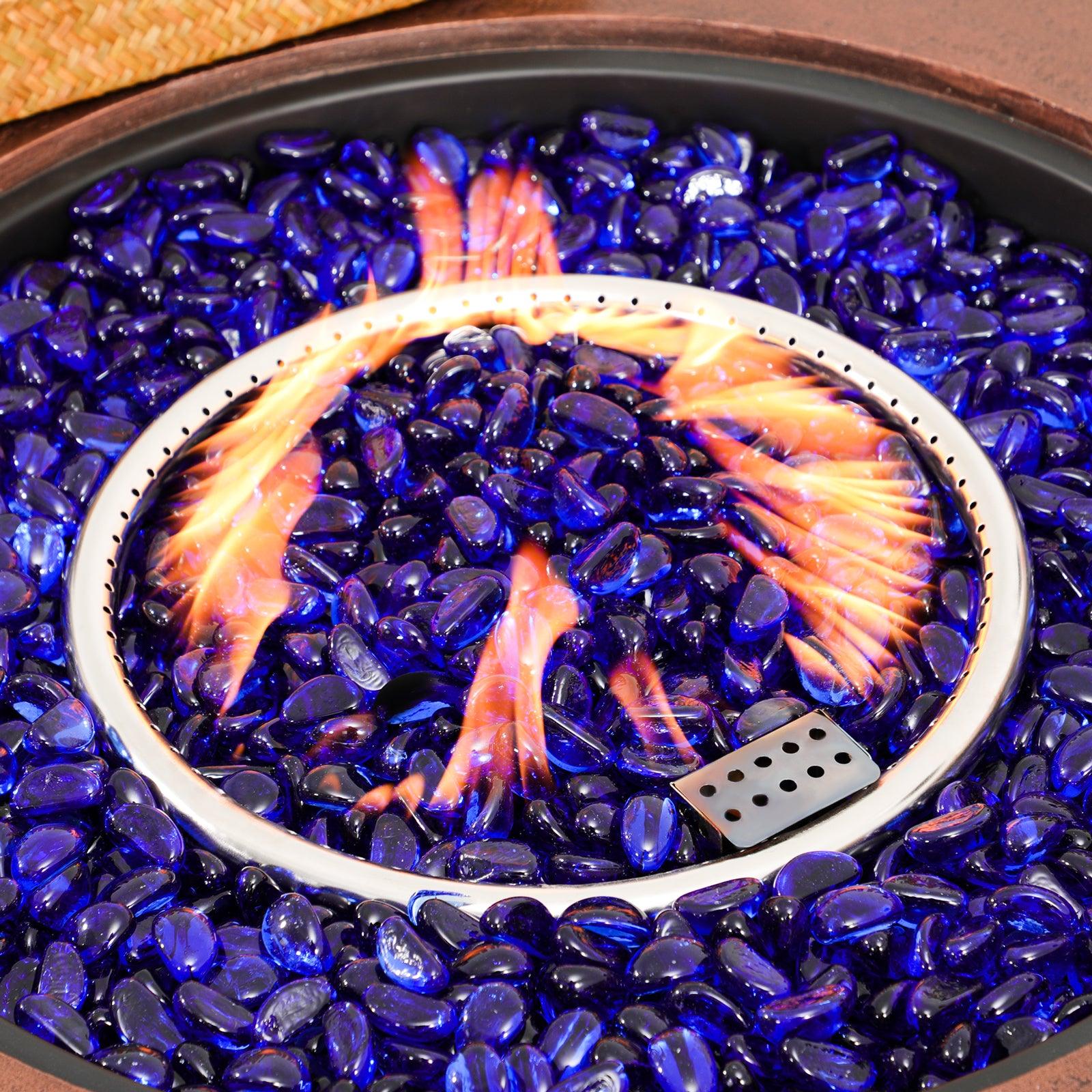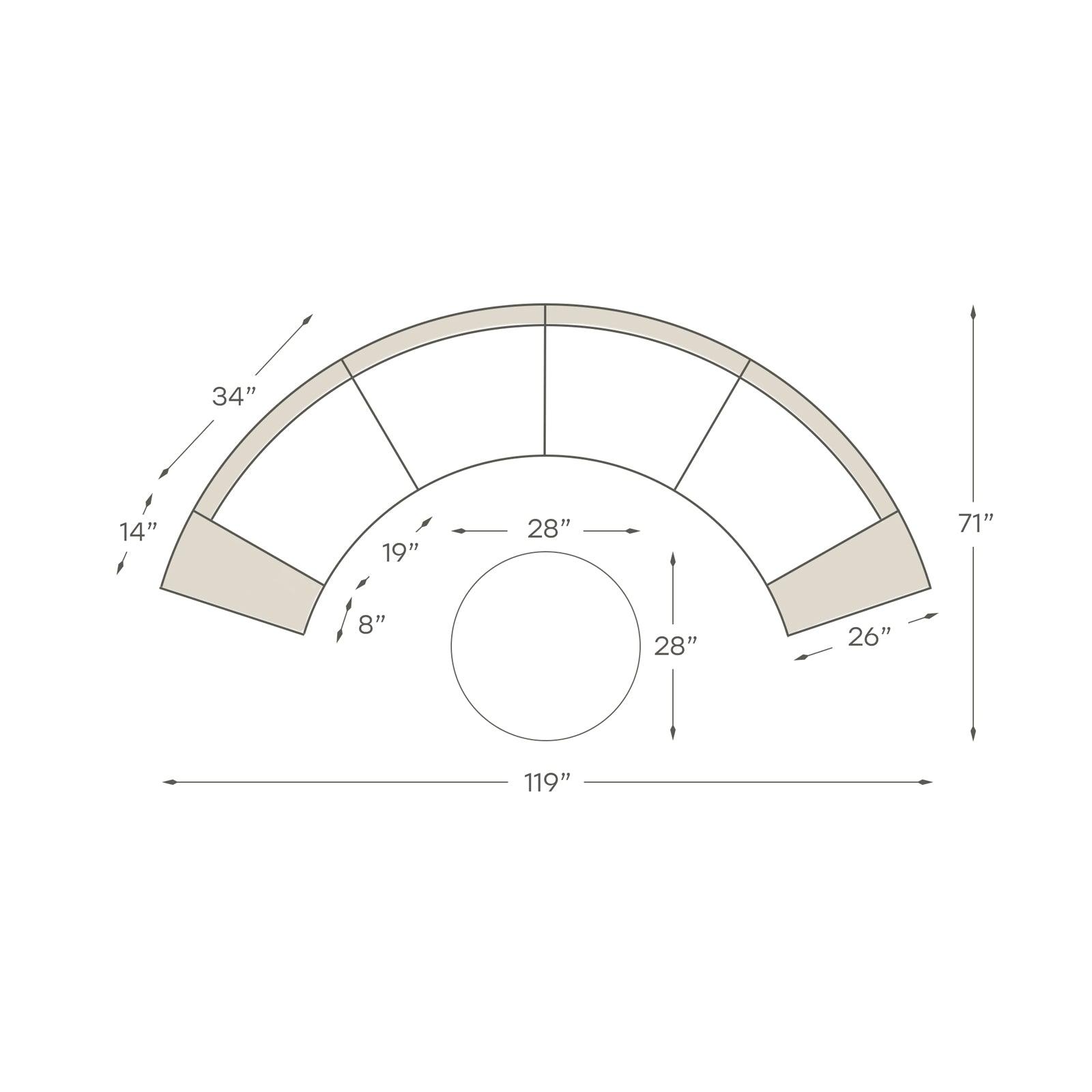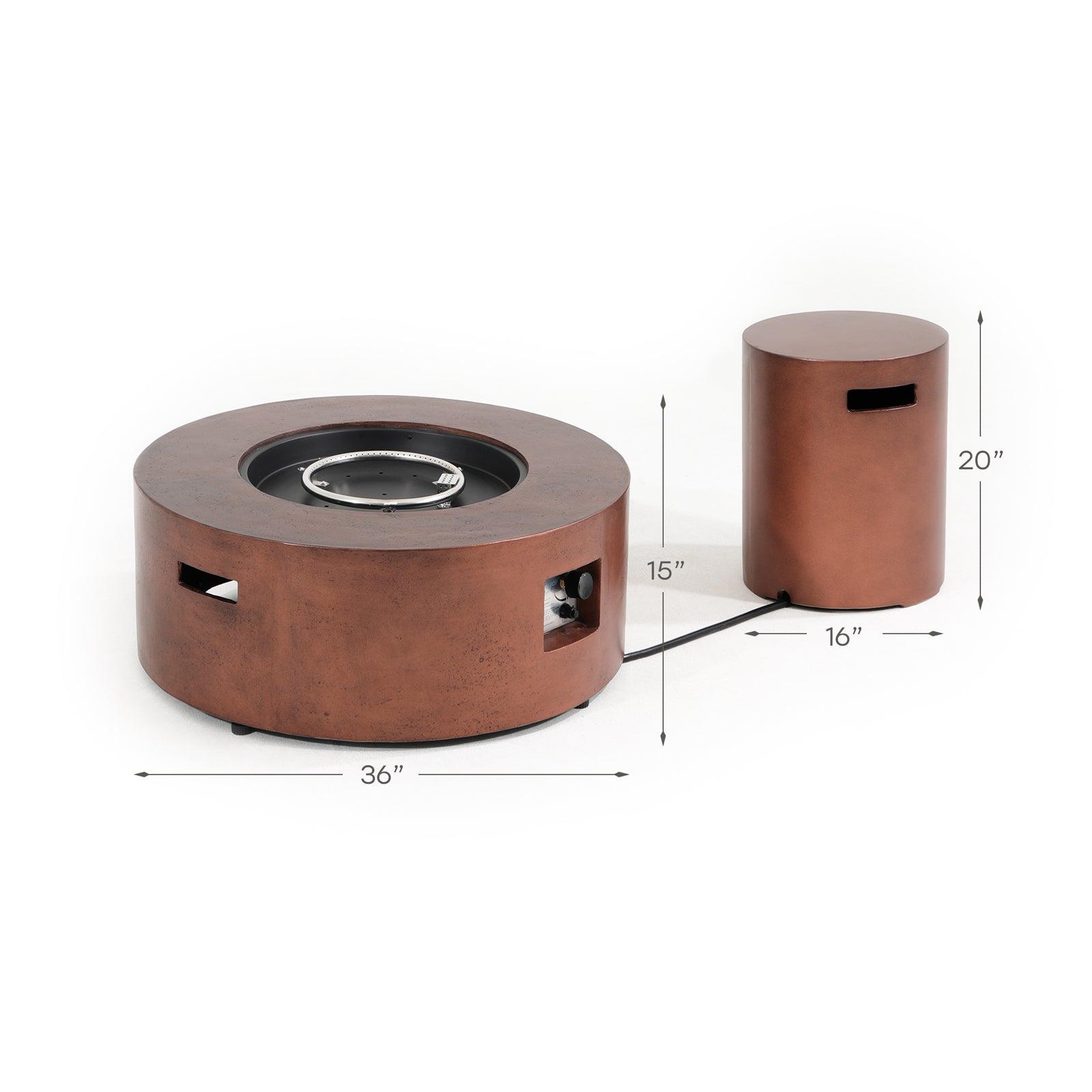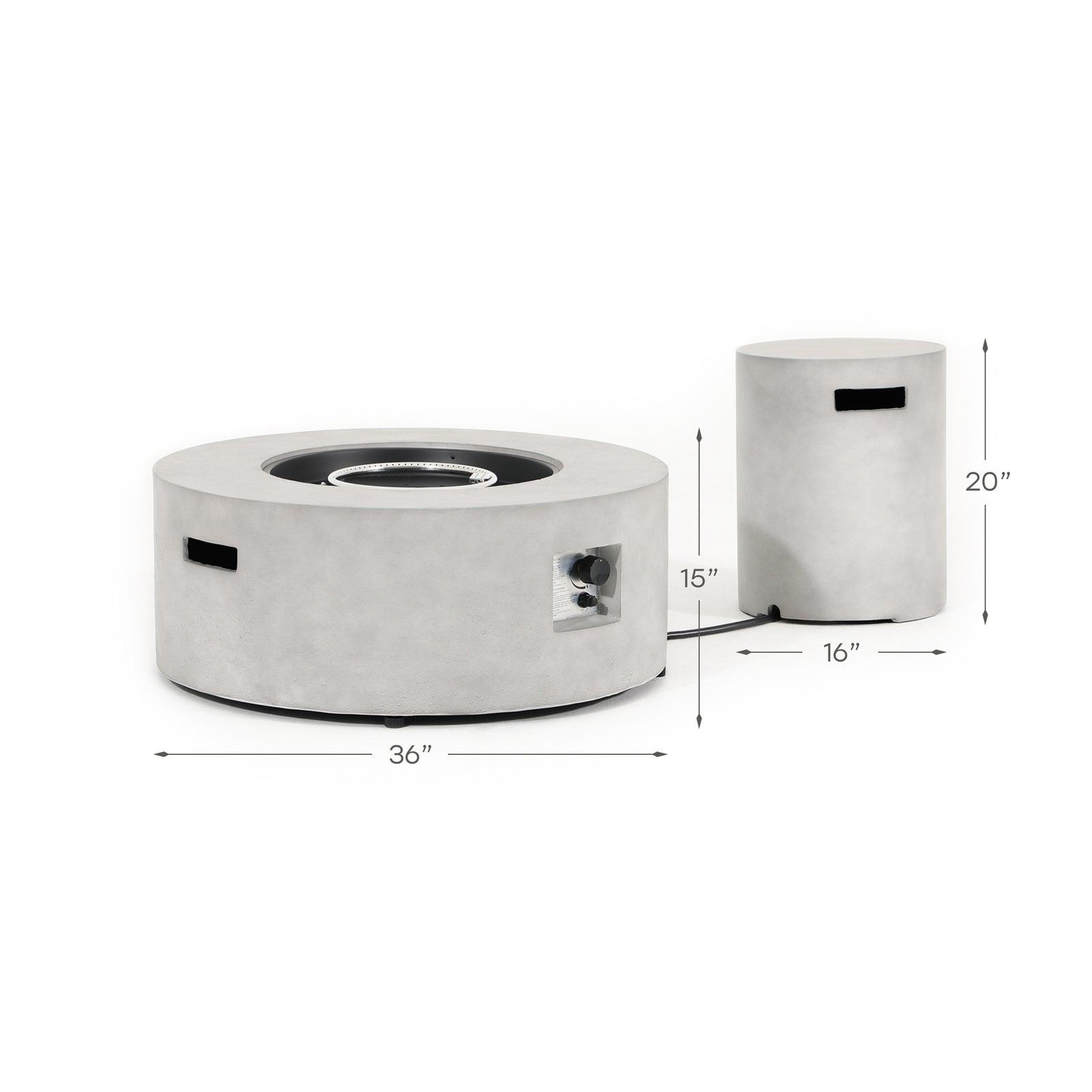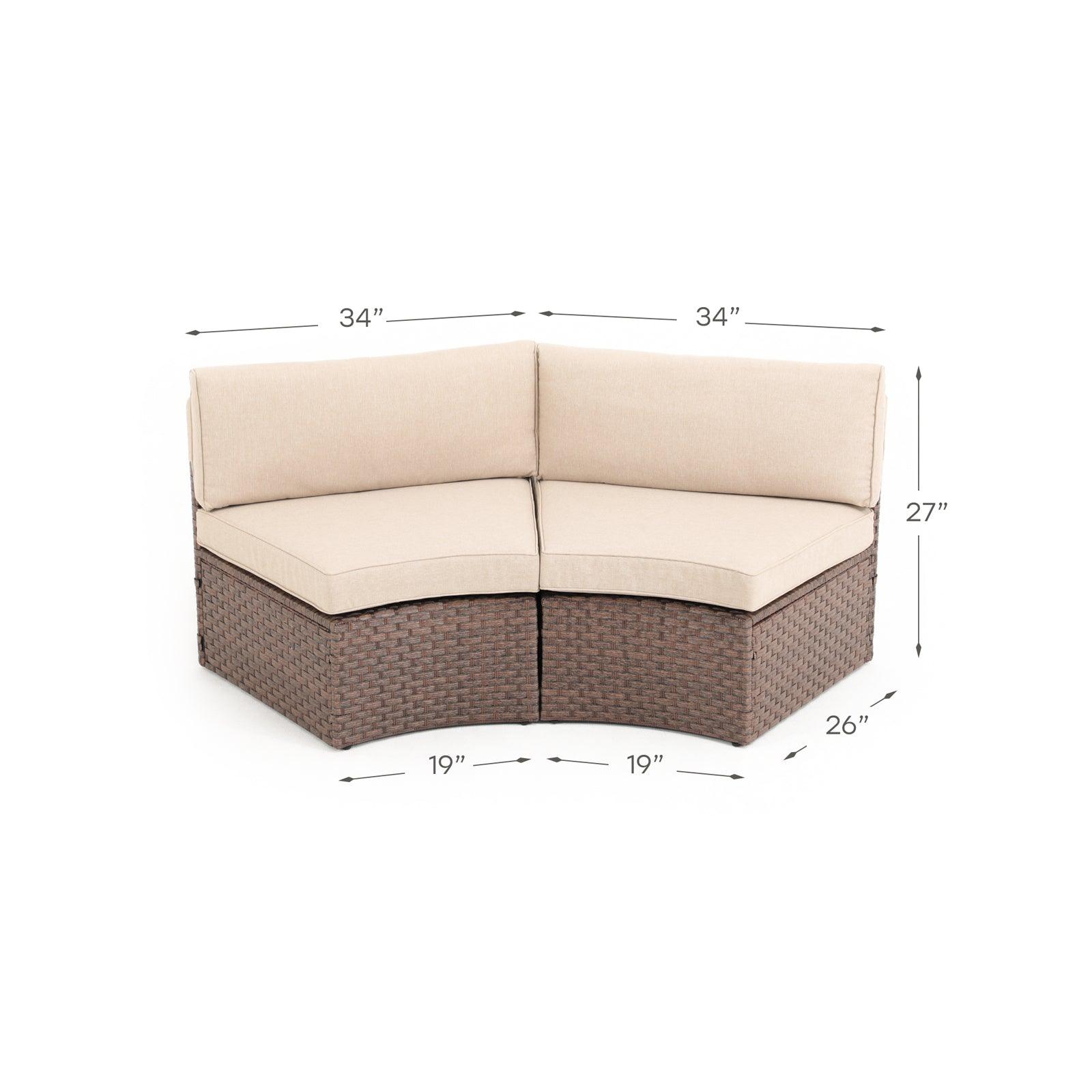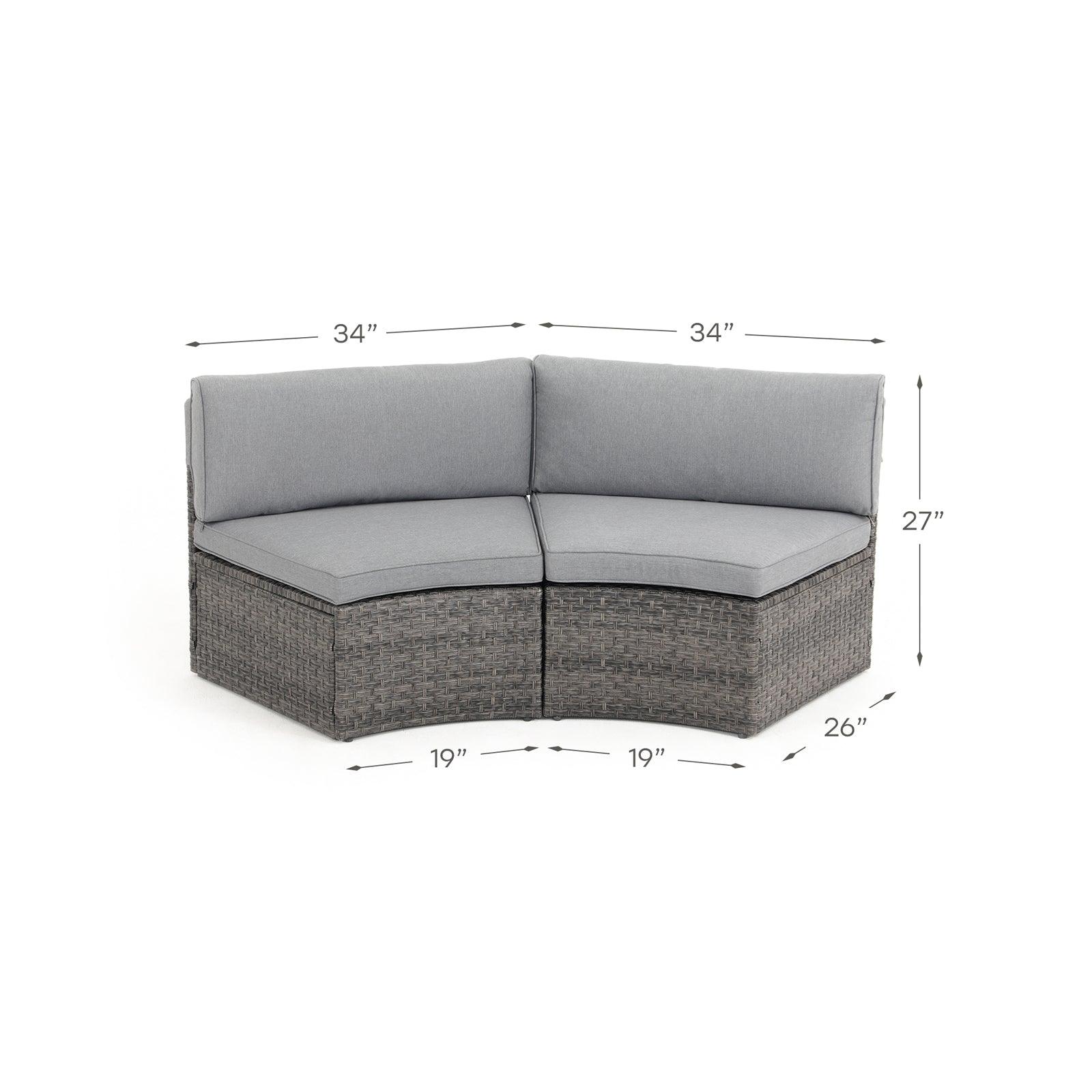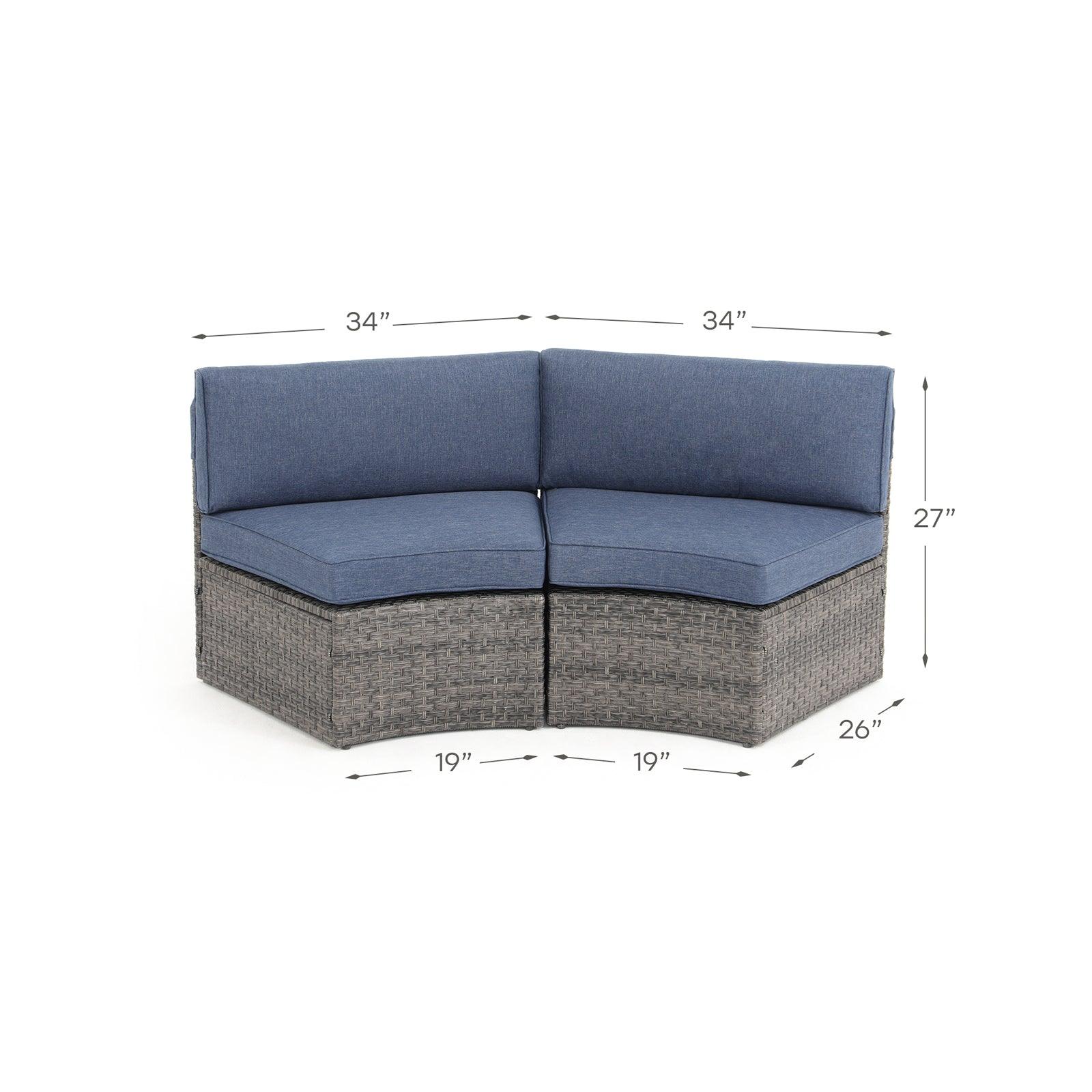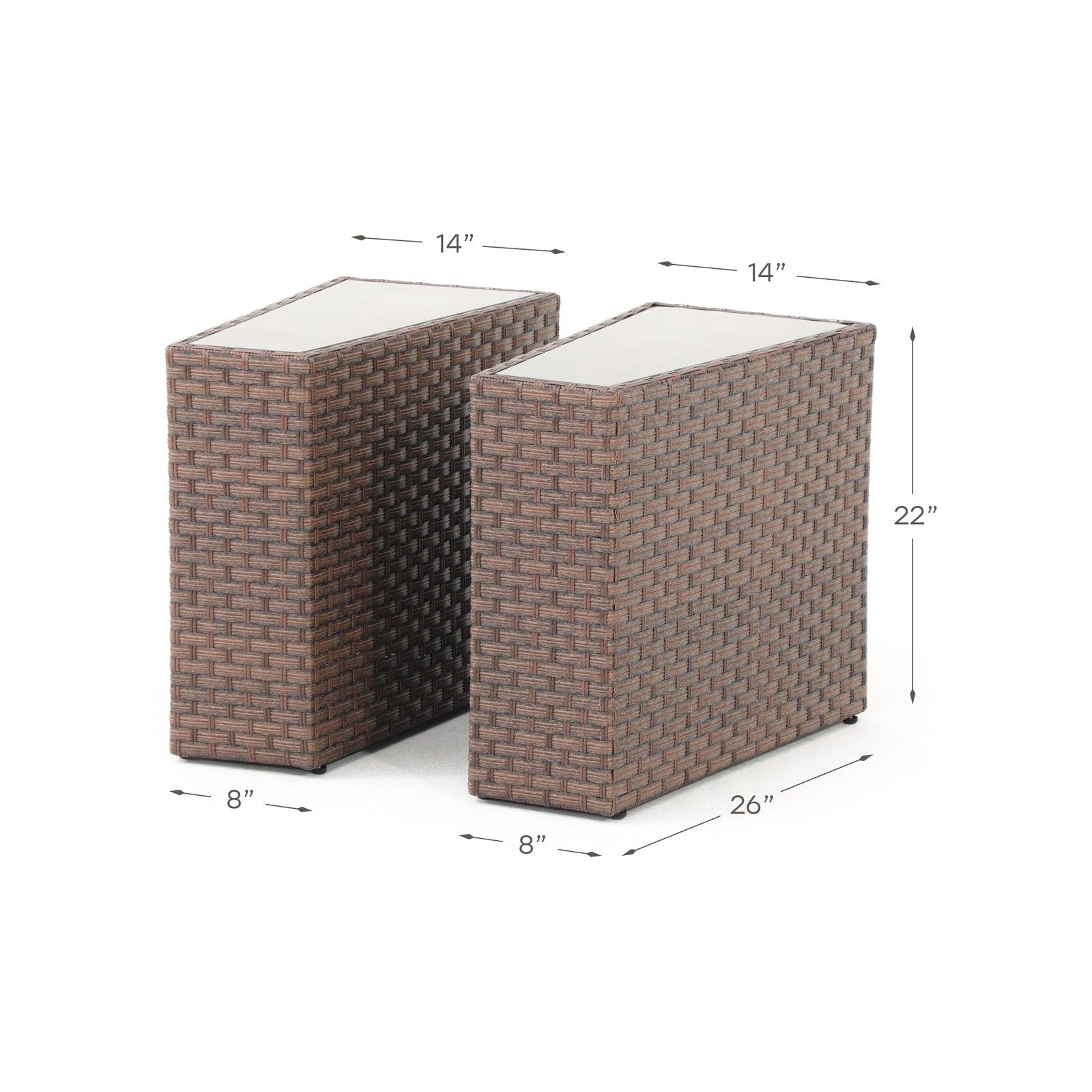 Boboli Wicker Curved Outdoor Sectional with Propane Fire Pit
If questions arise, our friendly and knowledgeable Customer Care team is just an email away. Send us a message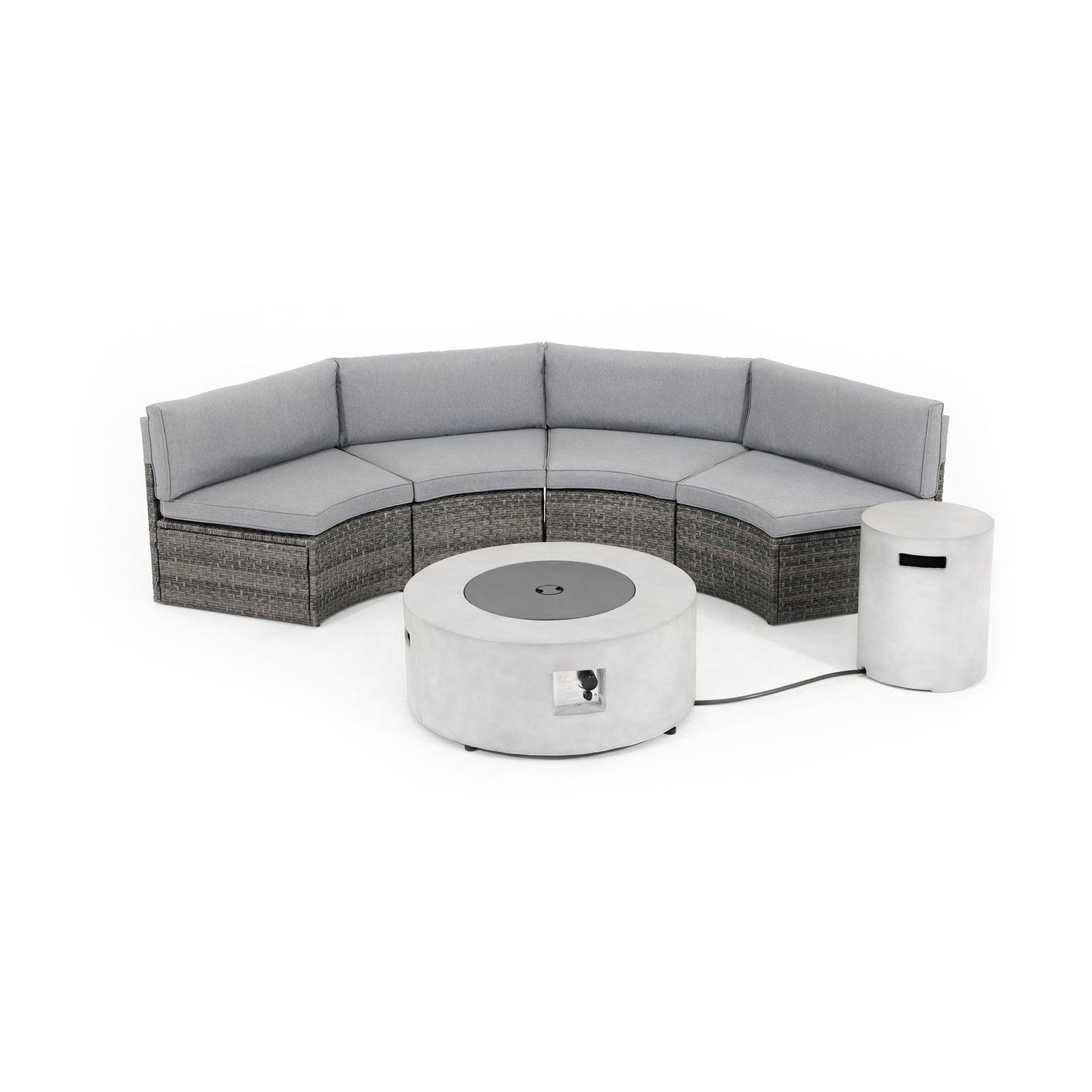 • Half-moon seat design
• Solid powder-coated steel frame wrapped in handwoven wicker
• Unlimited, modular configurations of sectional chairs
• Removable and washable cushion cover
• Faux concrete propane fire pit with 50,000 BTU heat output
• Easy assembly required
• Comes with a furniture cover that keeps your patio furniture dry and safe from the elements.

Metal/Aluminum/Rattan/Wicker: Surfaces should be dusted regularly with a soft, dry cloth to remove any particles or loose dirt.

Fabric: Use a damp cloth and mild detergent.

Tempered Glass: Dust build-up on tempered glass can lead to scratches. Dust regularly using a dry cloth. Clean glass with glass cleaner and a soft cloth. Then, wipe with a dry cloth.

Wood: should be dusted and gently polished using a dry, clean, soft cloth to preserve its finish and luster.

*Do not clean using abrasives, harsh, corrosive chemicals, or care products containing ammonia or silicone, as these could damage finishes and surfaces.

Visit More: Jardina's Products Protection & Maintenance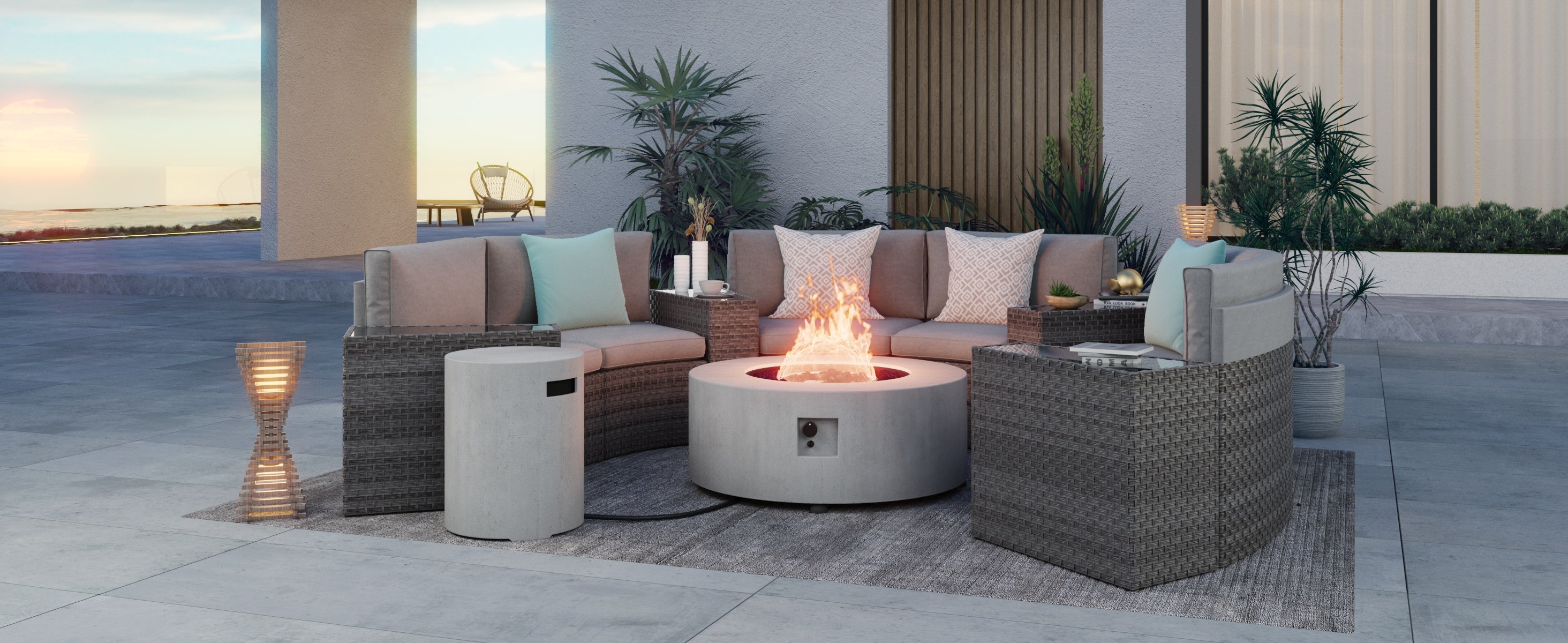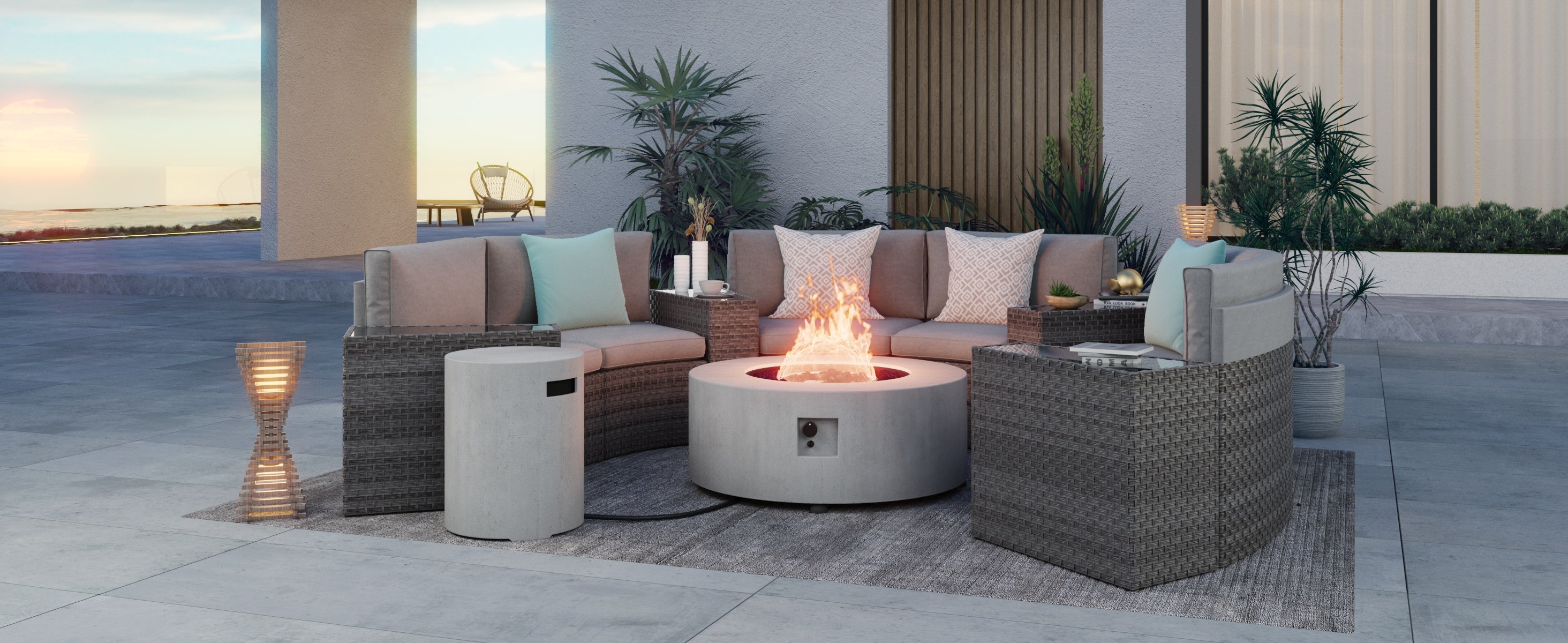 Elegant Rattan
Rich grey PE wicker rattan combines style and durability
Olefin Fabric Cushion
UV protection preserves colors, ensuring cushions maintain their vibrant allure. Additionally, the covers can be effortlessly removed for convenient cleaning.
Unique End Table
Side table with a tempered glass top provides both beauty and functionality, making it perfect for enjoying afternoon tea or reading a book.
Warm Fire Pit
Behold the 36" grand round fire table with its matching lid, a dual-purpose marvel that transforms into a blazing firepit on cozy nights and a stylish coffee table for indulging in snacks and drinks!
Look For More Info?
Transform Your Outdoor Living Area with Jardina Style.
What materials are used to ensure the durability?

The outdoor sectional set is constructed using weather-resistant rattan, plush olefin cushions, and a solid powder-coated steel frame. The inclusion of a high-quality and durable concrete fire pit table ensures that the set is made to last, providing years of enjoyment.
How does the fire pit enhance safety and comfort during outdoor gatherings?

The CSA certified propane gas fire pit table, with its 50,000 BTU heat output, not only adds warmth but also ensures safety by offering smokeless flames. The blue glass beads reflect these flames, providing a cozy and visually pleasing atmosphere.
What are the different configurations that can be achieved with this set?

The patio furniture set with a fire pit can be combined into a semi-circle, round shape, or customized configurations based on your preferences.
What purpose do the side tables serve in this set?

The side tables in the patio furniture set are designed to provide convenient surfaces for placing items such as beverages, snacks, or personal belongings. They complement the seating arrangement, adding practicality and functionality to the outdoor space.
How long will it take to get my orders?

It depends on where you are. Orders processed here will take 5-7 business days to arrive.
This product has no reviews yet.
Shop the Collection
Sale price

From $1,290.00
Regular price

$2,000.00
Sale price

From $1,690.00
Regular price

$2,600.00
Sale price

From $1,090.00
Regular price

$1,800.00
Sale price

$899.00
Regular price

$1,299.00
Sale price

$420.00
Regular price

$600.00
You may also like
Sale price

$2,999.00
Regular price

$4,299.00
Sale price

$1,999.00
Regular price

$2,298.00
Sale price

$799.00
Regular price

$999.00
Sale price

$1,799.00
Regular price

$2,180.00
Sale price

$3,999.00
Regular price

$5,299.00
Sale price

$1,299.00
Regular price

$1,699.00