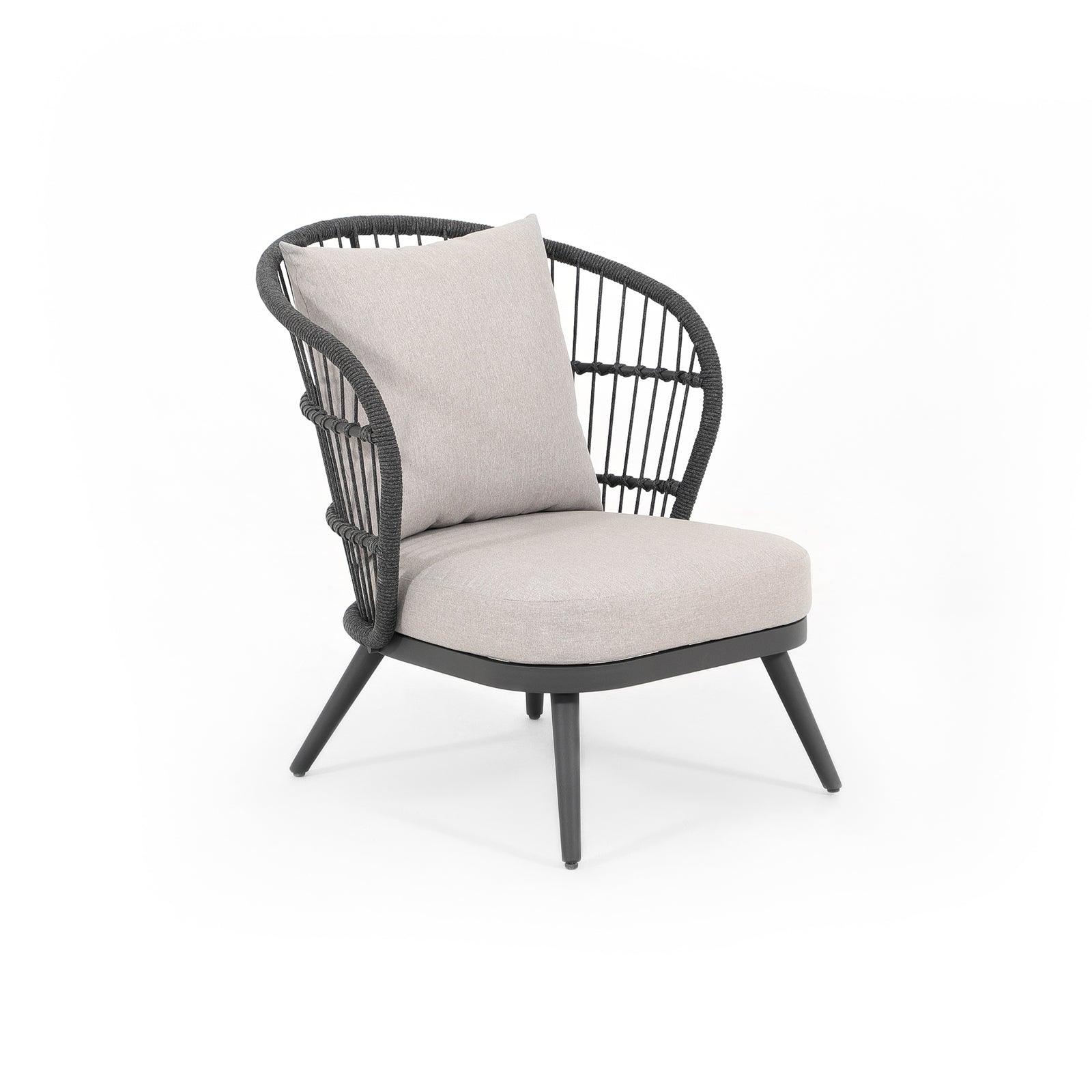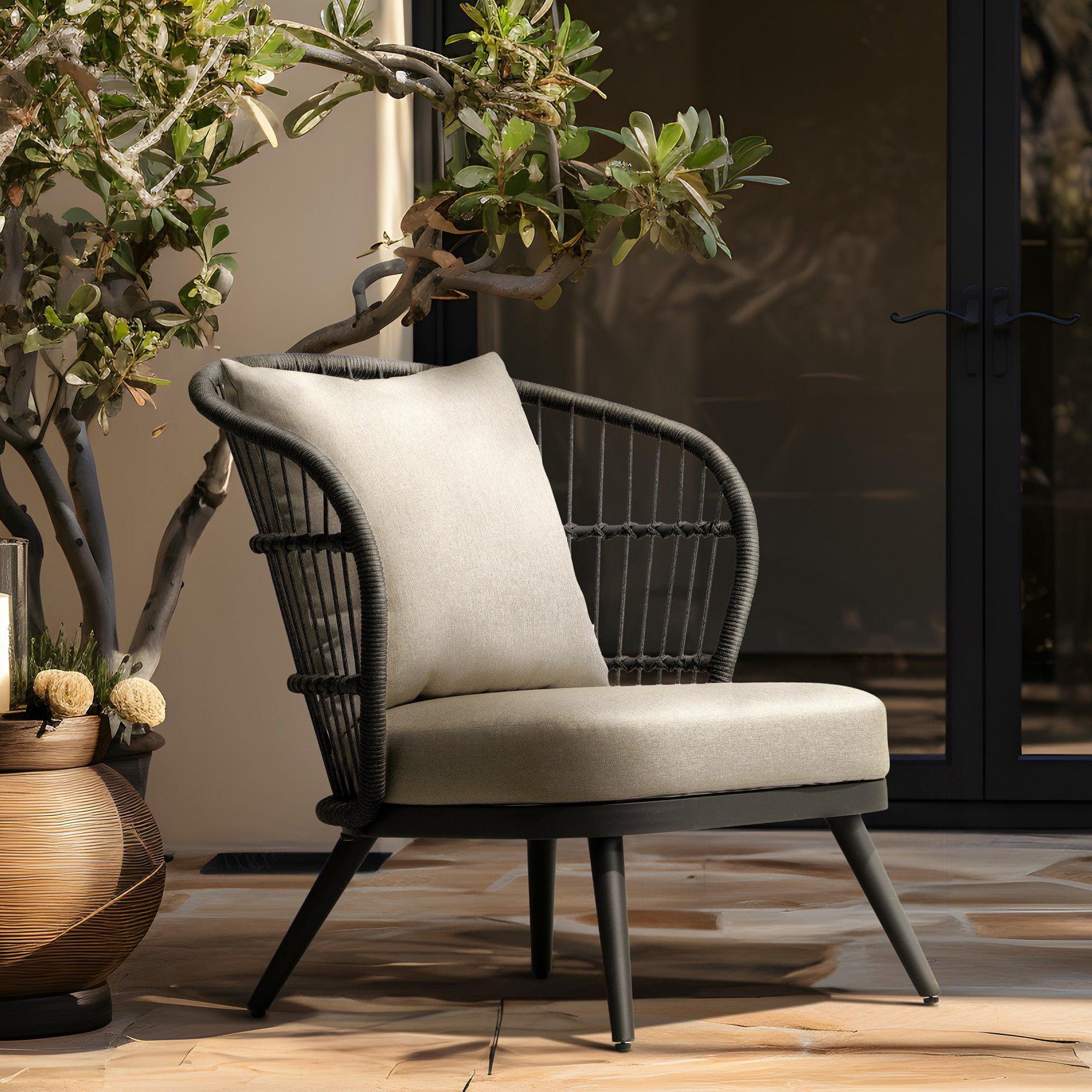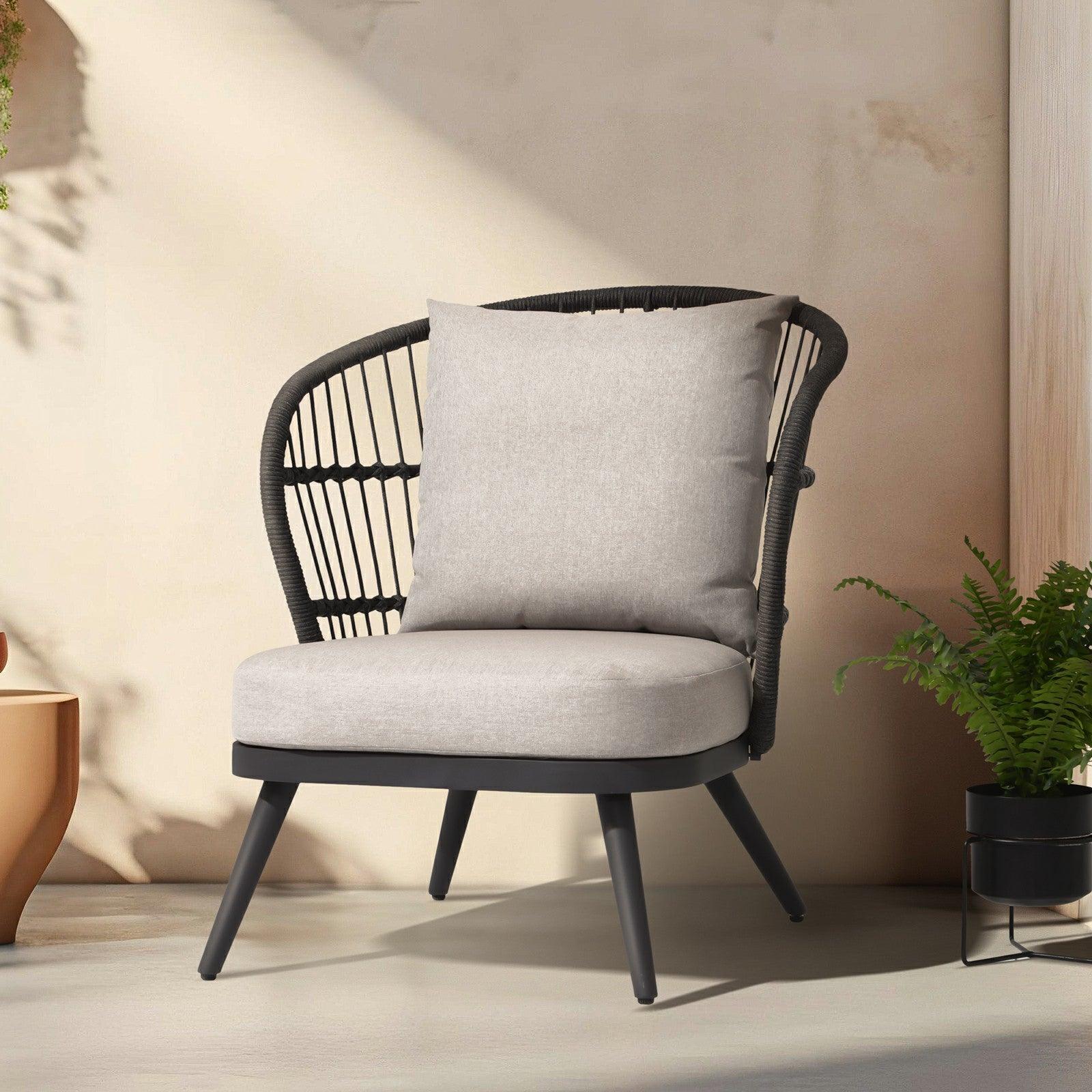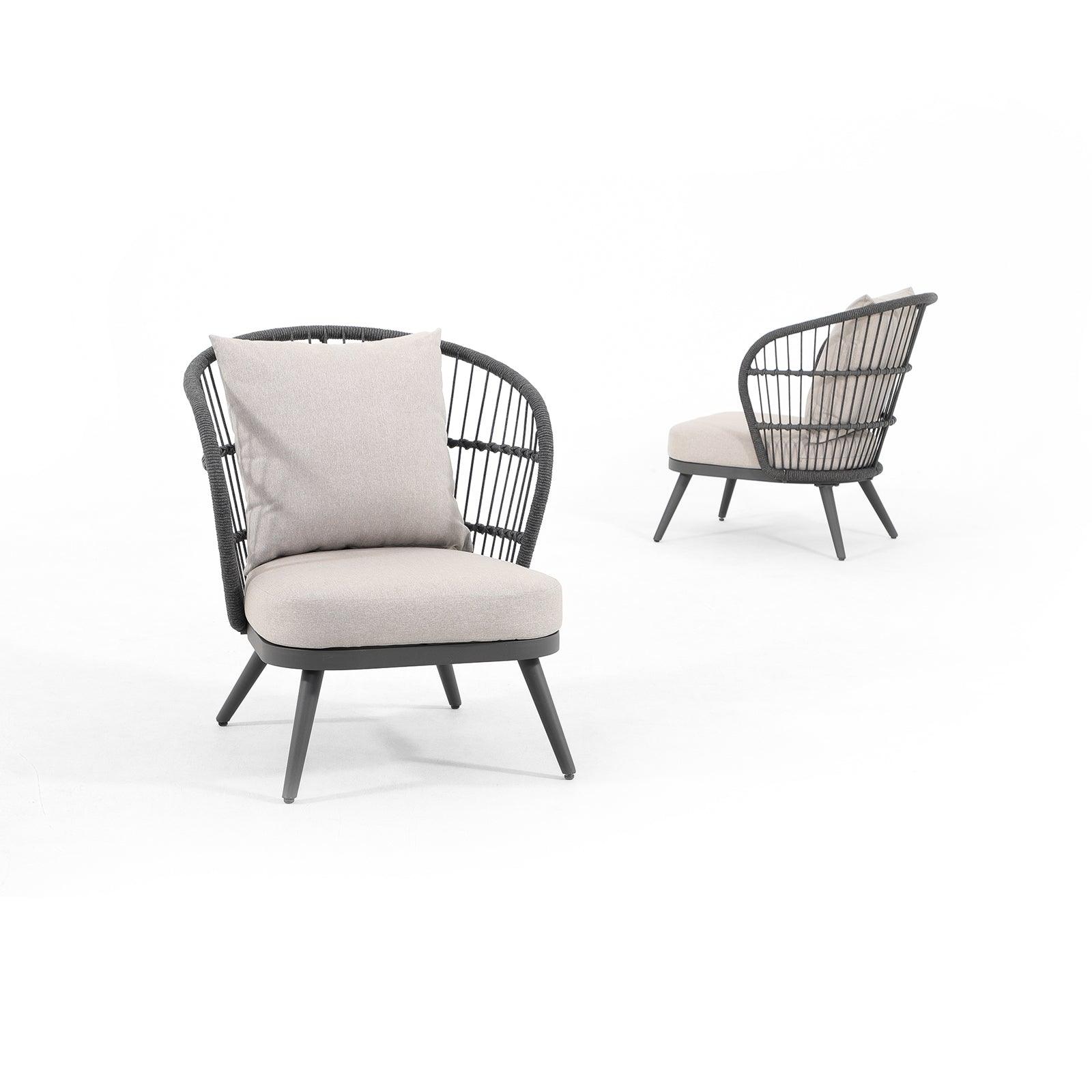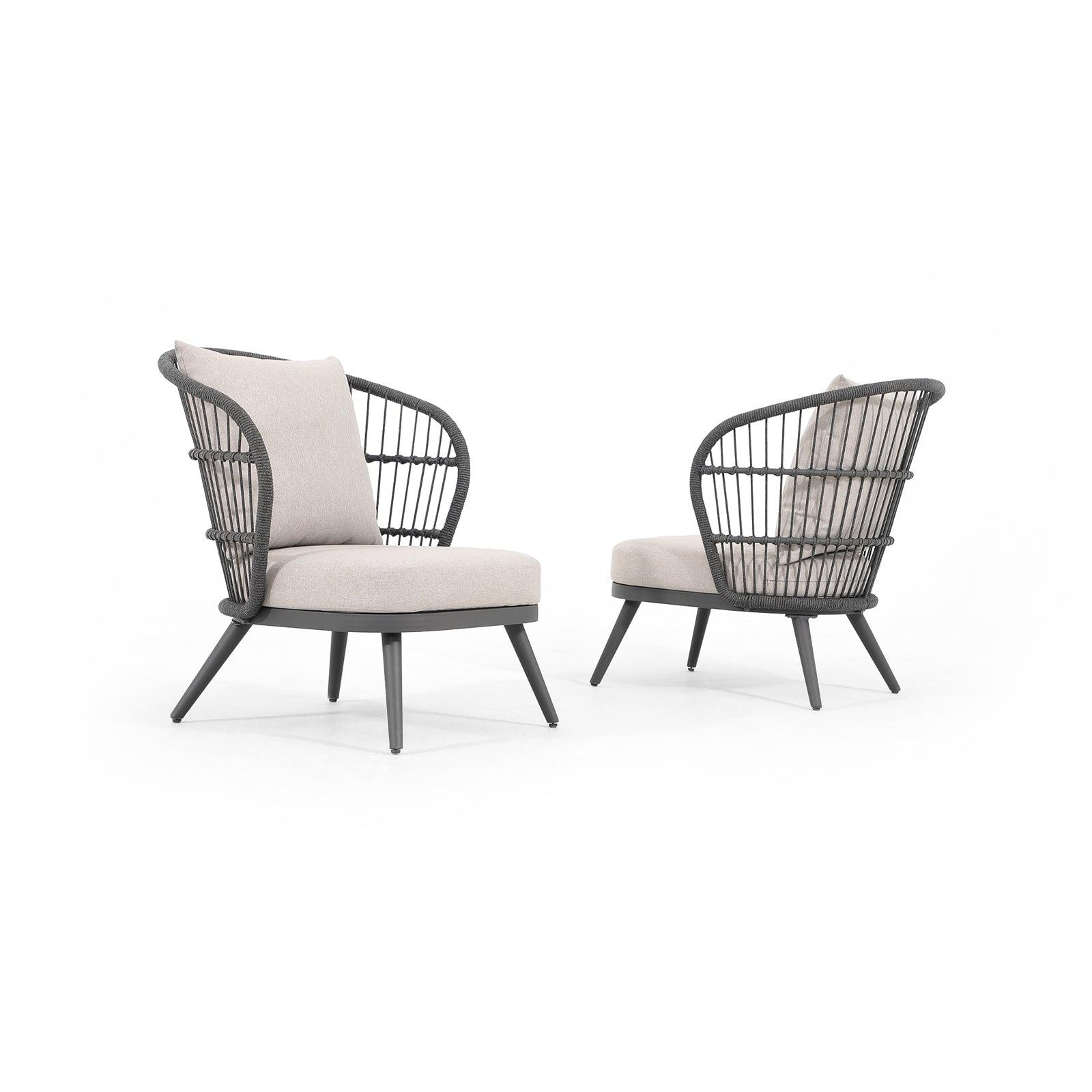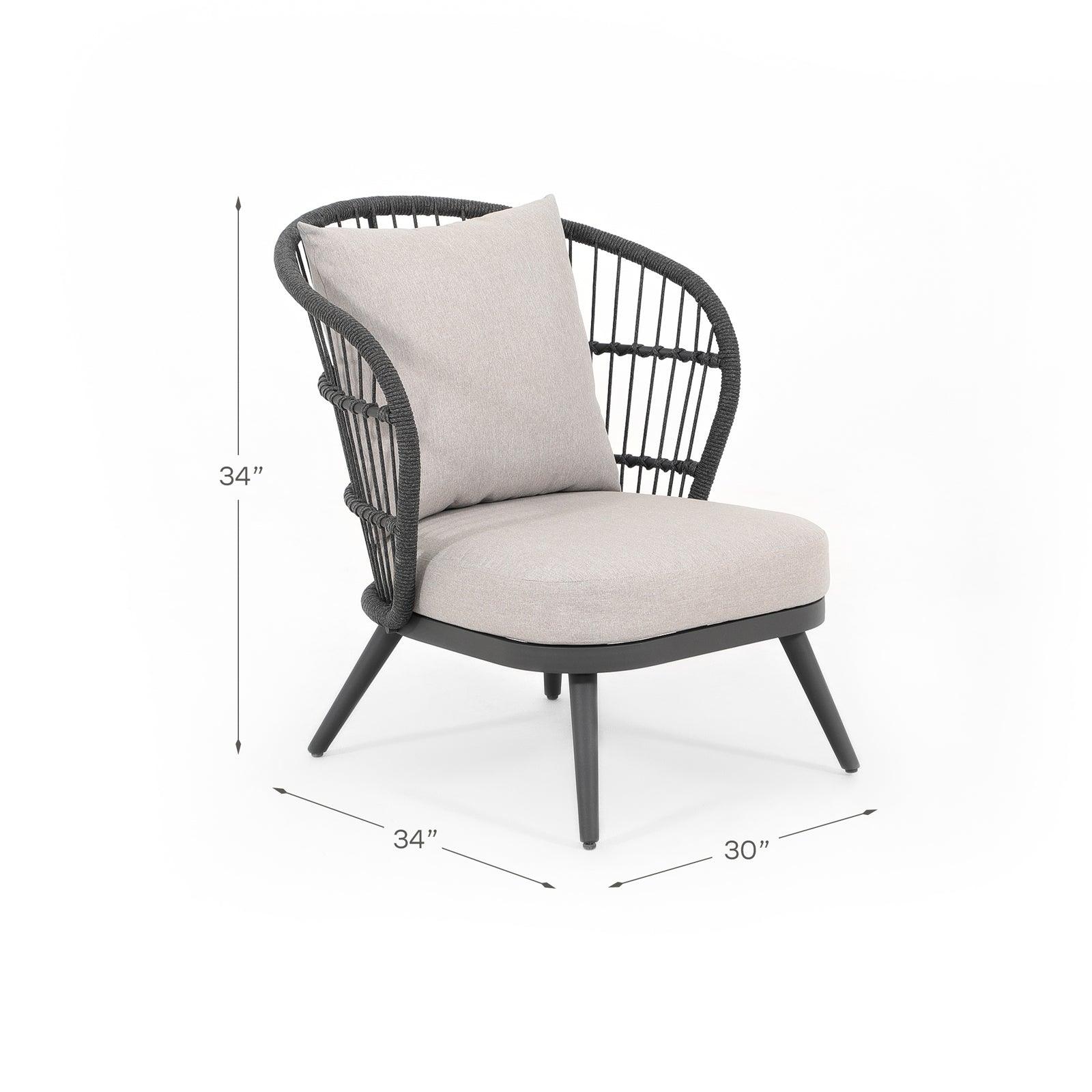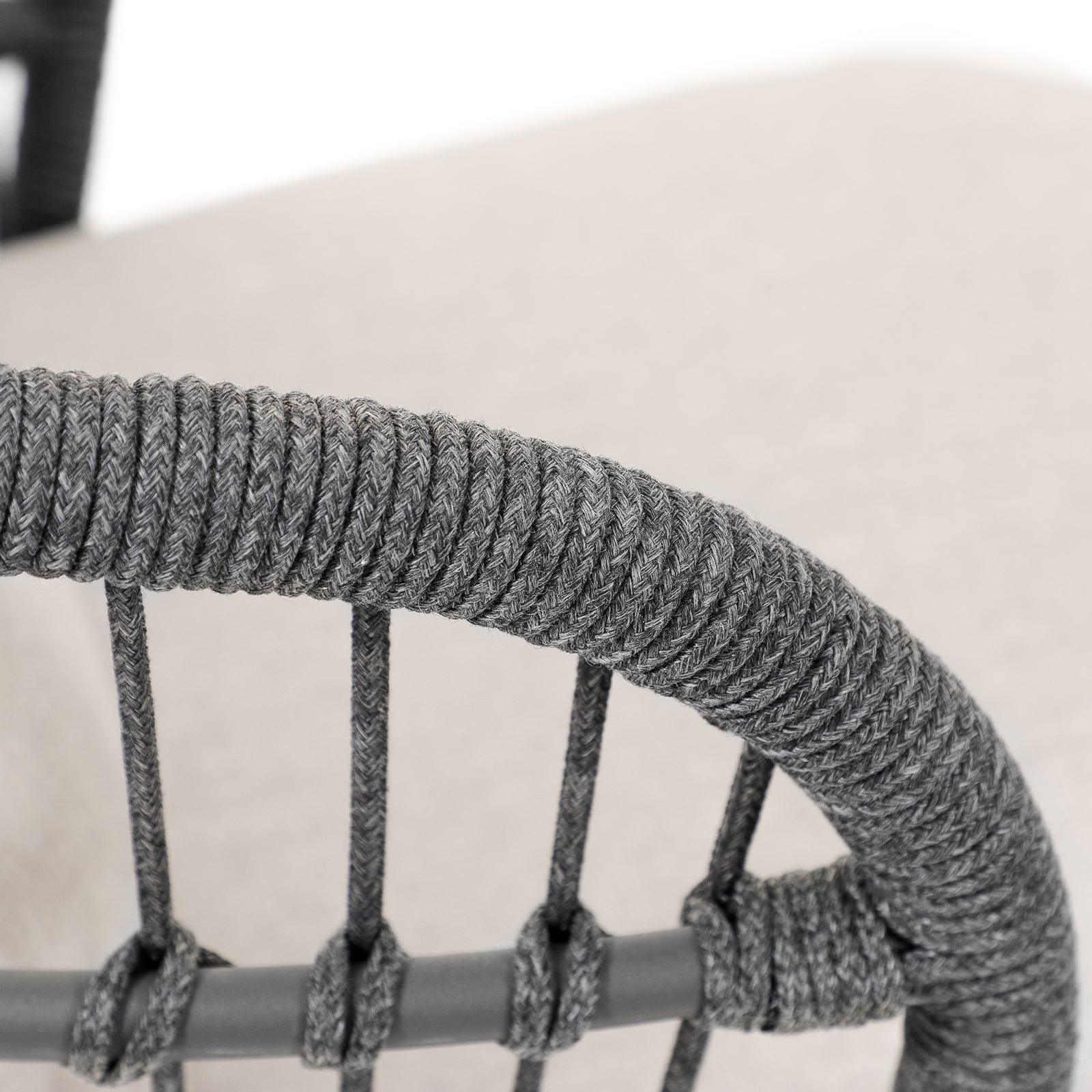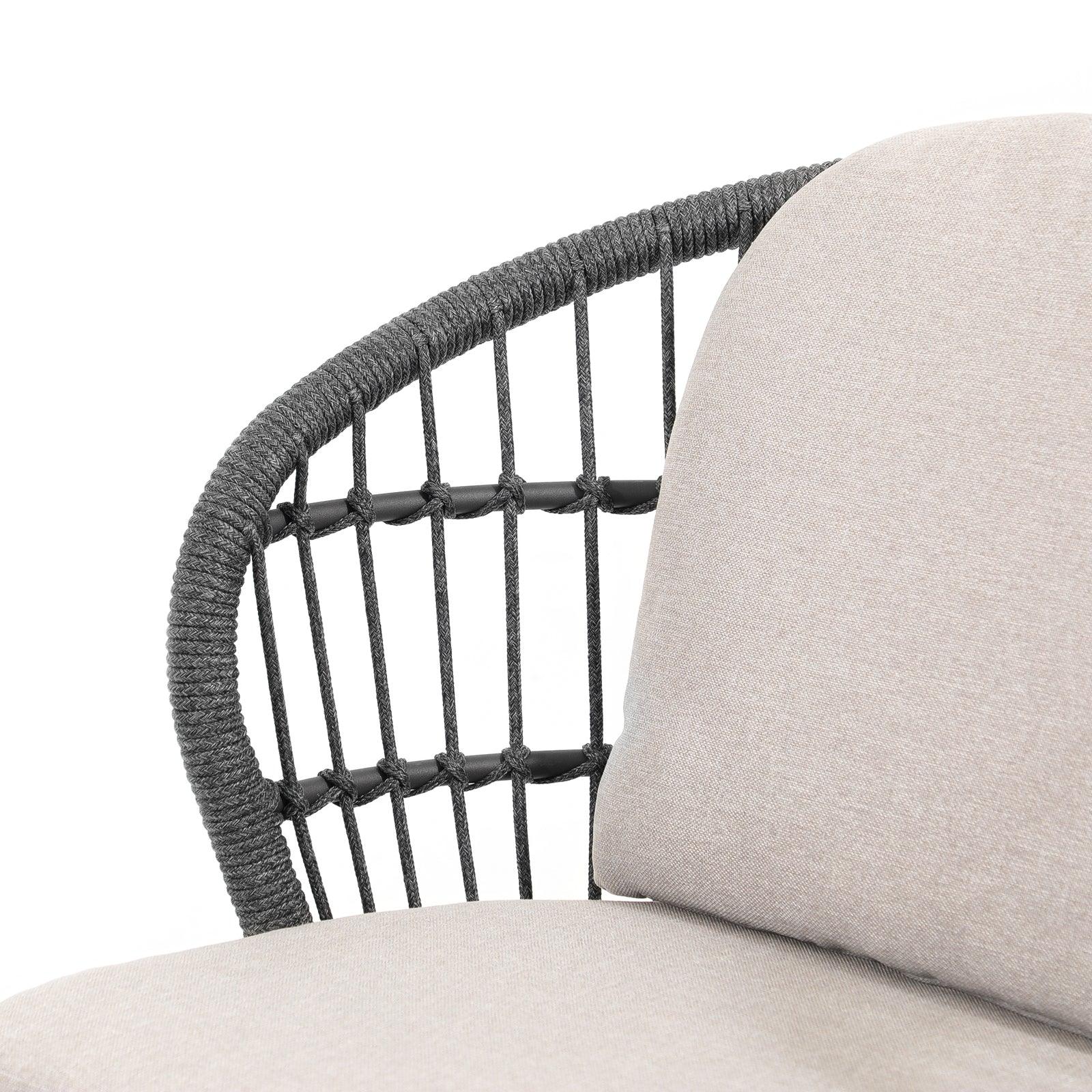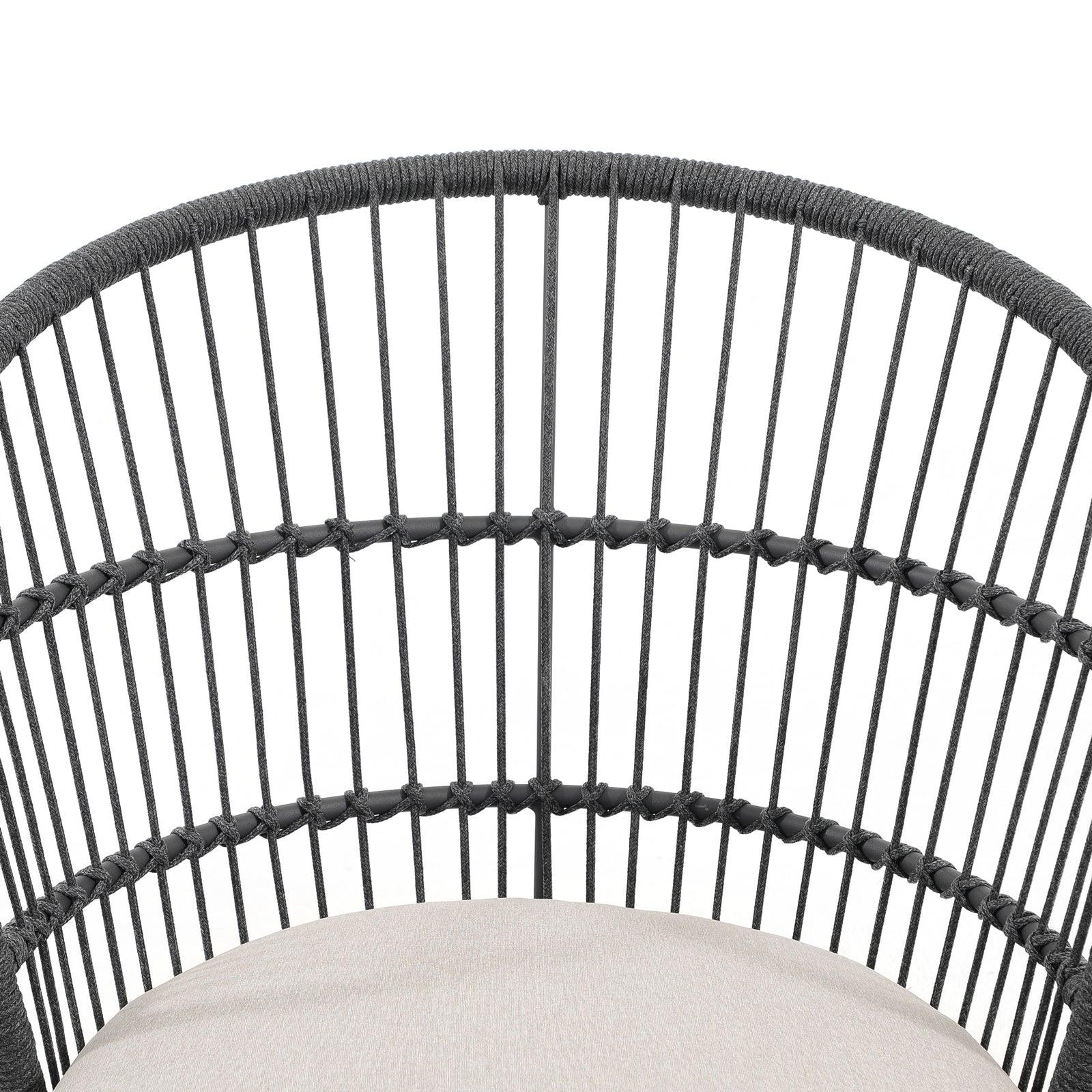 Comino Grey Aluminum Lounge Chair with Woven Rope
If questions arise, our friendly and knowledgeable Customer Care team is just an email away. Send us a message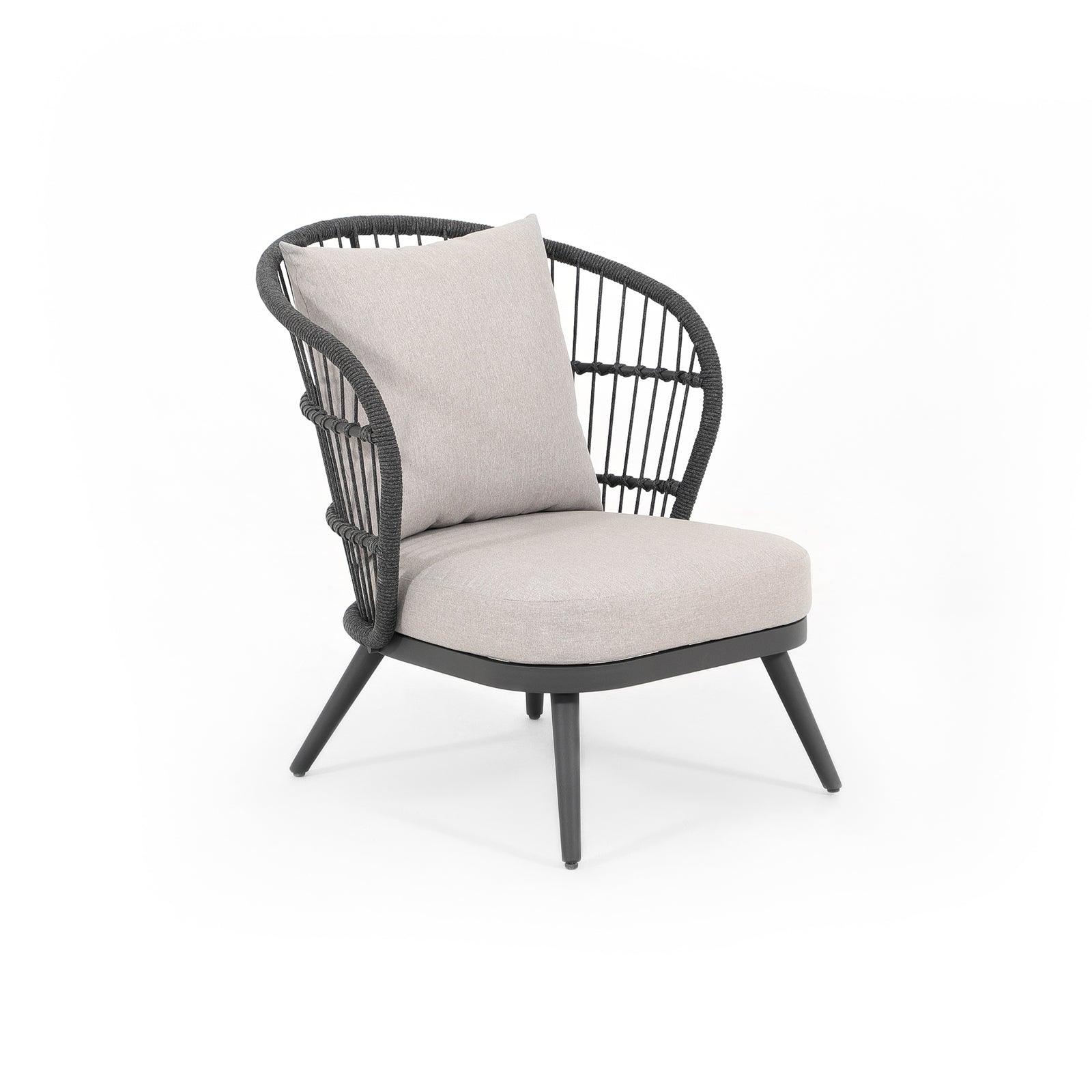 • Shell-shaped backrest design
• Sturdy powder-coated aluminum frame wrapped in woven cotton feel fabric rope
• 5'' thick seat cushions secured with tie fastening and water-resistant fabric
• Removable, washable cushion cover
• Easy assembly required

The Grey Aluminum Lounge Chair with Woven Rope transcends mere furniture – it's an invitation to embrace tranquility and sophistication. Every seated moment is an ode to the pursuit of refined living. The distinctive shell-shaped design not only lends an artistic aura to your space, but also offers unmatched support and relaxation. Carefully chosen materials, from the sturdy aluminum frame to the cotton-feel rope, promise an unparalleled sensory delight.

We've thoughtfully considered your convenience as well. Tie-fastened cushions not only guarantee comfort but also radiate meticulous craftsmanship. The use of water-resistant fabric eliminates worries of unexpected splashes. And for the everyday upkeep, removable cushion covers make cleaning effortless.

Now, you can share moments of bliss with friends and family without hesitation. With a simple assembly process, you'll be nestled in comfort sooner than you think, cherishing every precious instant.
Metal/Aluminum/Rattan/Wicker: Surfaces should be dusted regularly with a soft, dry cloth to remove any particles or loose dirt.

Fabric: Use a damp cloth and mild detergent.

Tempered Glass: Dust build-up on tempered glass can lead to scratches. Dust regularly using a dry cloth. Clean glass with glass cleaner and a soft cloth. Then, wipe with a dry cloth.

Wood: should be dusted and gently polished using a dry, clean, soft cloth to preserve its finish and luster.

*Do not clean using abrasives, harsh, corrosive chemicals, or care products containing ammonia or silicone, as these could damage finishes and surfaces.

Visit More: Jardina's Products Protection & Maintenance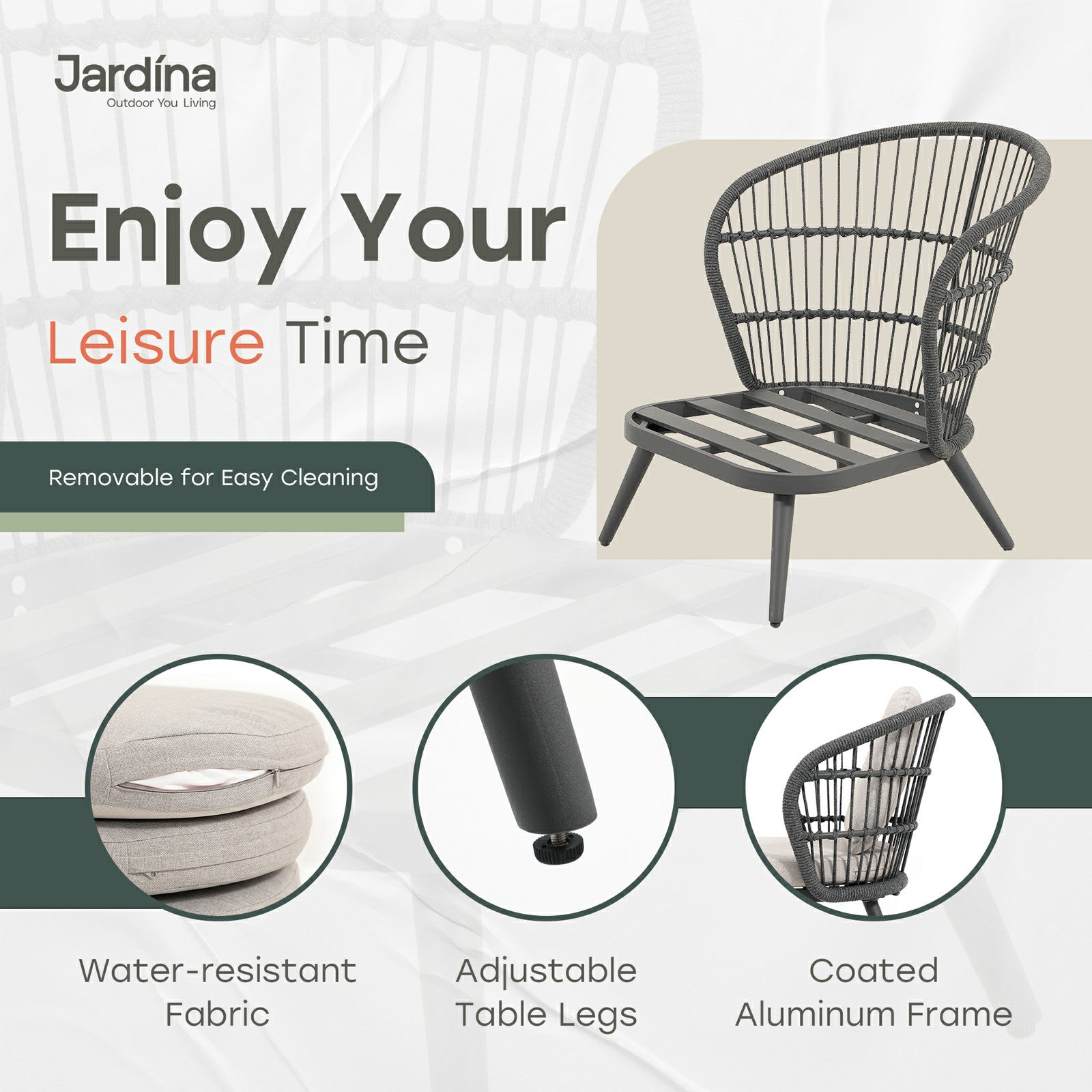 02
Comino Chair
Discover the Exceptional Features of Our Comino Lounge Chair.
03
Multiple Combinations
Unleash Your Creativity with Endless Combinations.
02
Comino Chair
Discover the Exceptional Features of Our Comino Lounge Chair.
03
Multiple Combinations
Unleash Your Creativity with Endless Combinations.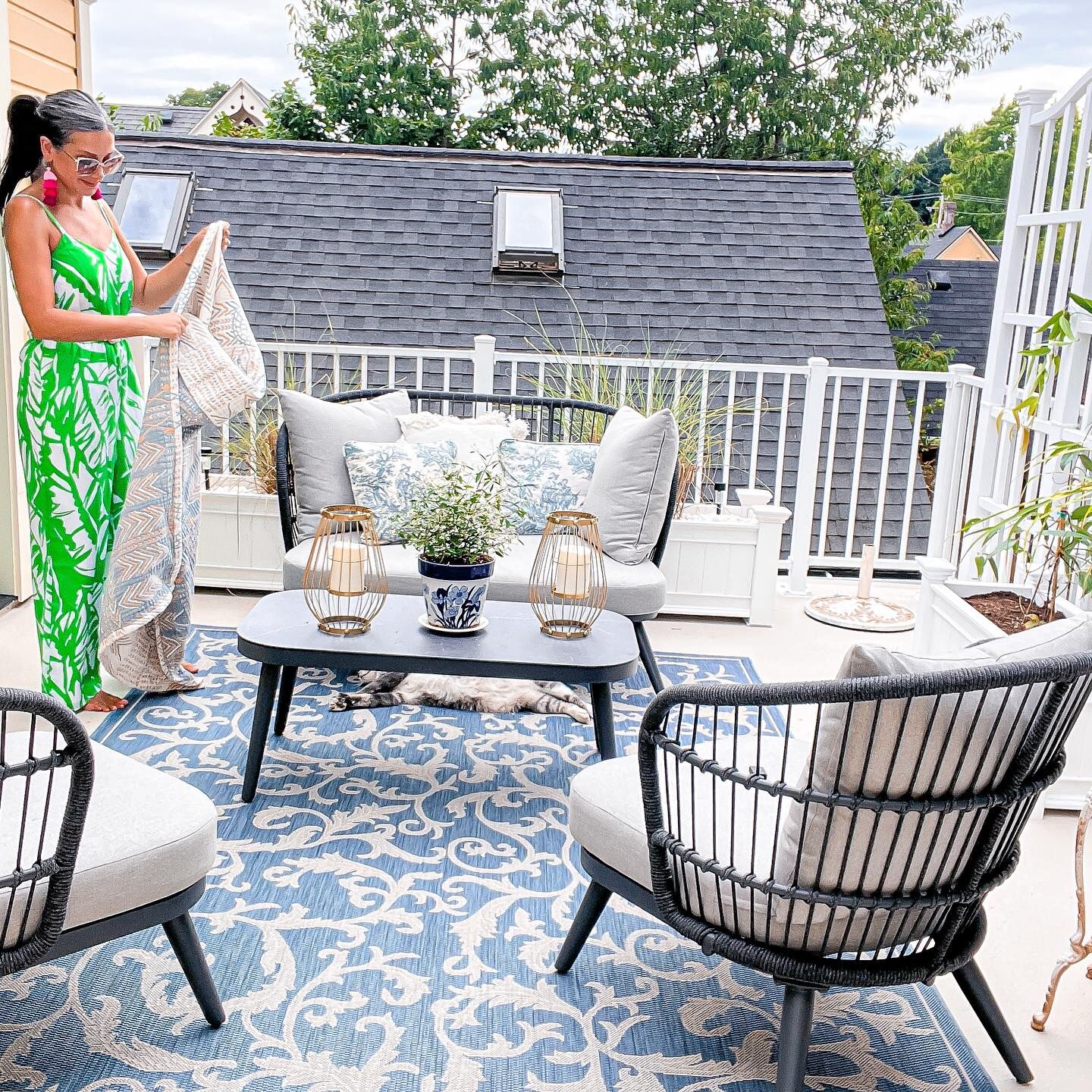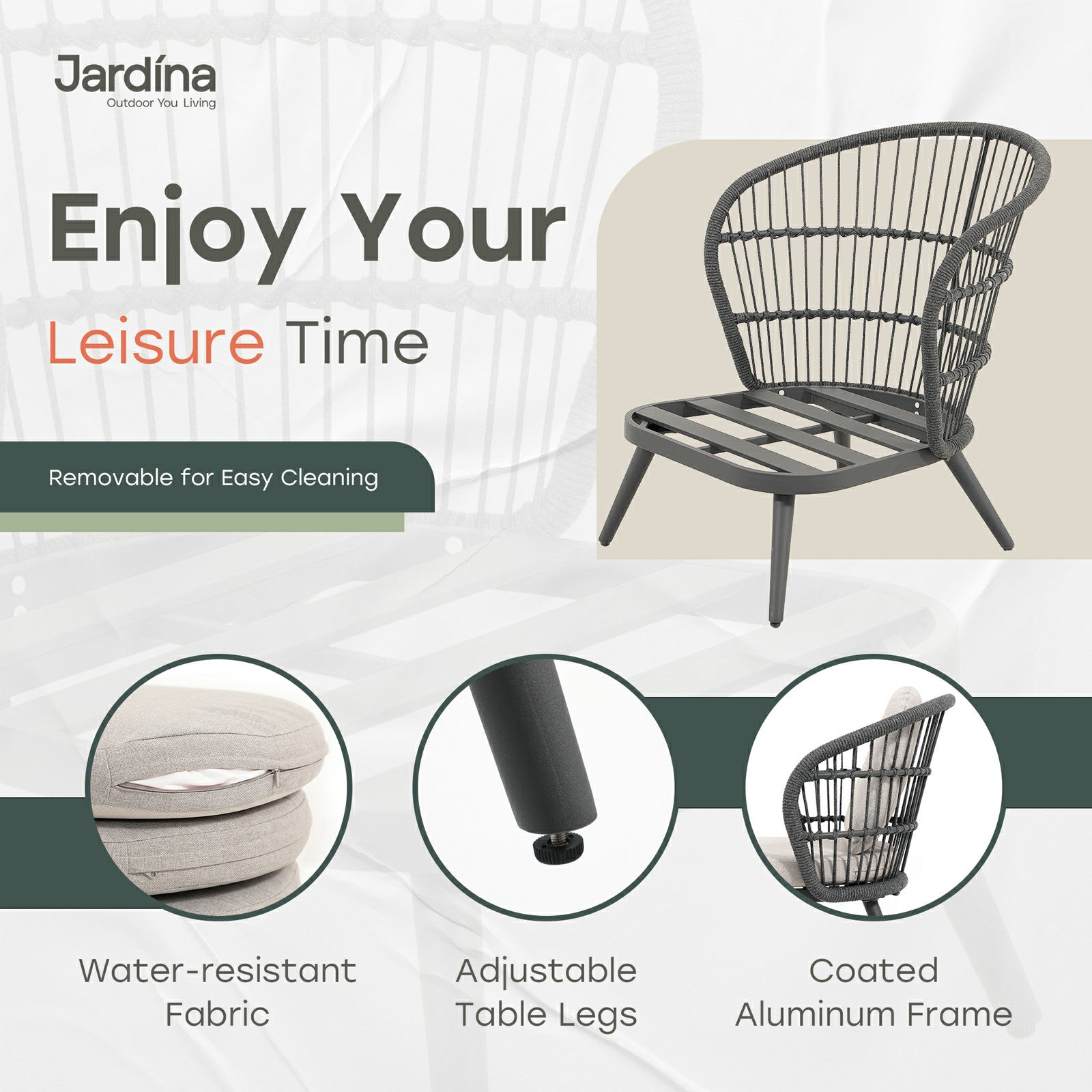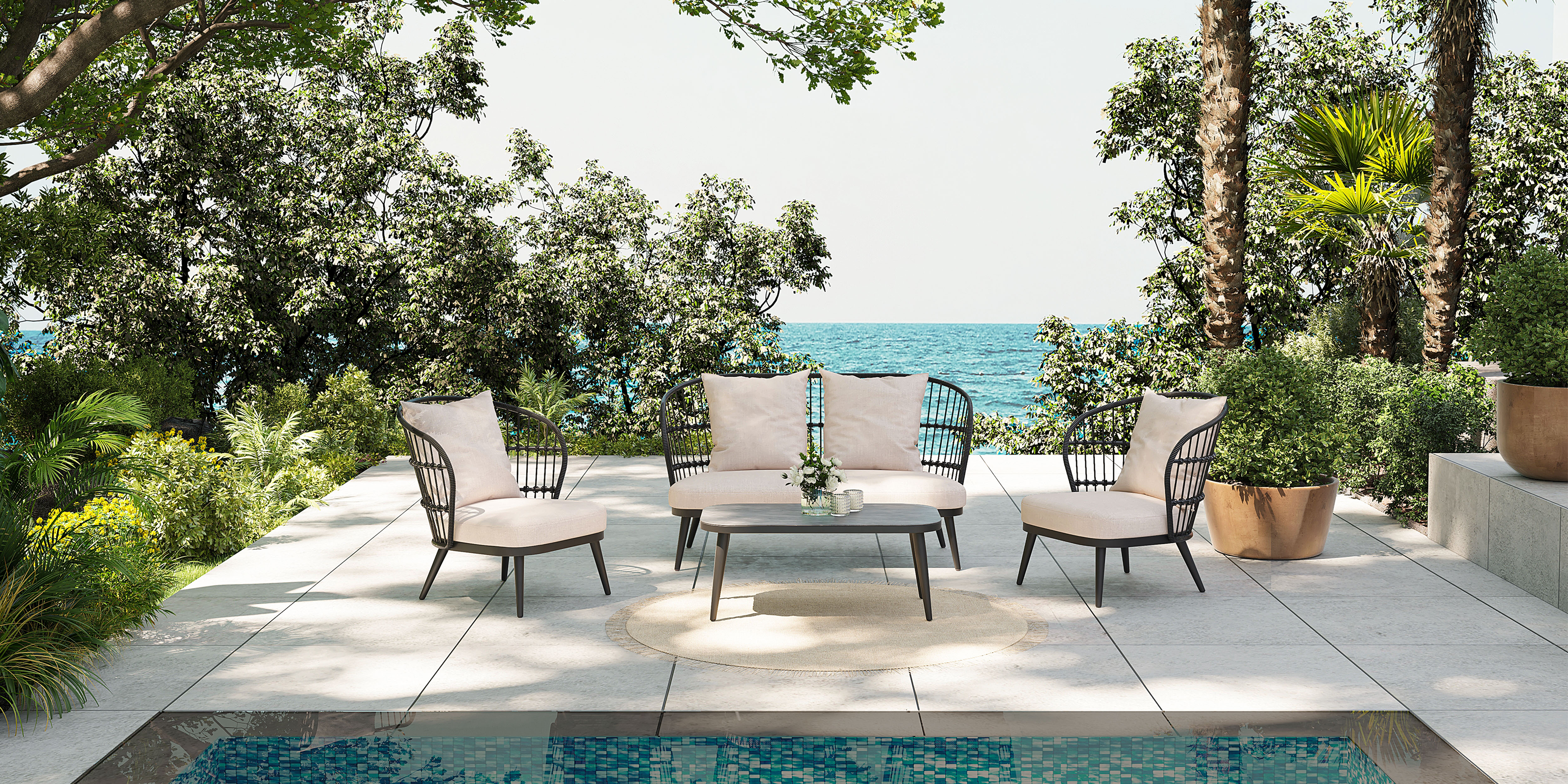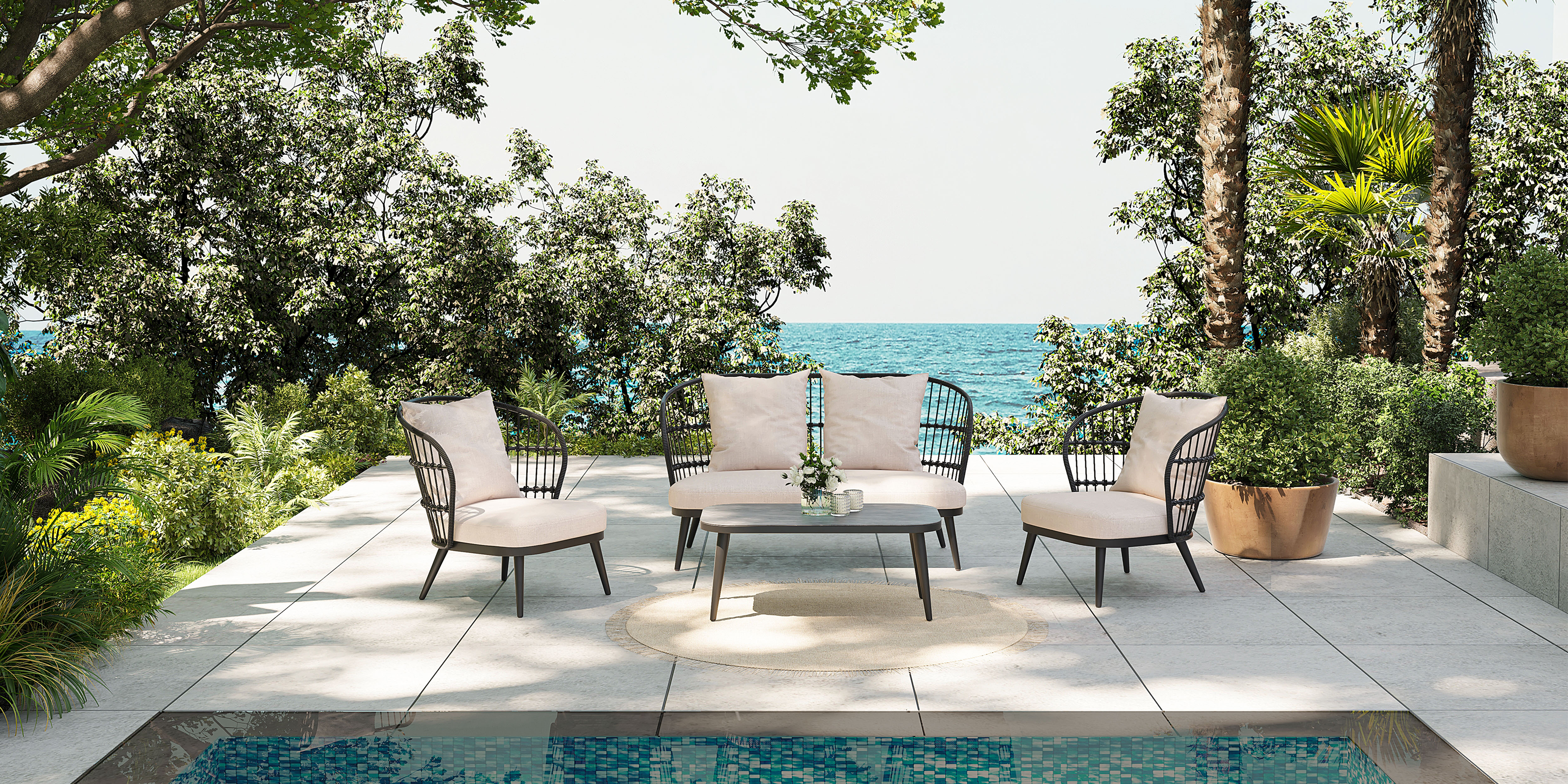 Shell Design
Shell-shaped backrest in weather-resistant cotton rope
Soft Cushions
Plush cushions with waterproof Yarn-dyed fabric cover
Adjustable Feet
Level the sofa on uneven surfaces, ensuring stability and preventing wobbling
Ceramic Glass Tables
Coffee table offers ample space for drinks, snacks, magazines and any decorations.
Look For More Info?
Transform Your Outdoor Living Area with Jardina Style.
Can you describe the unique design feature of the lounge chair?

Of course!The lounge chairs showcase a unique shell-shaped backrest design, giving them a distinctive and eye-catching look. This design feature adds a touch of elegance and sets them apart in terms of aesthetics.
Are the cotton rope sofa set suitable for outdoor use?

Yes, the sturdy powder-coated aluminum frame and woven cotton rope wrapping make the chairs suitable for outdoor use, as they can withstand varying weather conditions.
How easy is it to maintain and keep the cushions clean?

Maintaining the cushions is effortless. The Yarn-dyed fabric cushion covers are removable and washable, making it simple to keep them fresh and clean. This feature contributes to the longevity and hygienic upkeep of the chairs.
How long will it take to get my Comino Sofa Set?

It depends on where you are. Orders processed here will take 5-7 business days to arrive.
This product has no reviews yet.
Shop the Collection
Sale price

$1,799.00
Regular price

$2,180.00
Sale price

$1,099.00
Regular price

$1,498.00
Sale price

From $1,499.00
Regular price

$1,997.00
Sale price

From $1,899.00
Regular price

$2,495.00
Sale price

$1,099.00
Regular price

$1,599.00
Sale price

$420.00
Regular price

$599.99