July 4th is just around the corner, and what better way to celebrate Independence Day than sprucing up your outdoor living space with high-quality patio furniture? Jardina, the renowned brand in outdoor furniture, is here with an exclusive offer you won't want to miss. Get ready to transform your patio into a blissful retreat as we dive into the details of the exciting Jardina 2023 Patio Furniture Sale.
Discover Jardina - the Outdoor Bliss Expert
At
Jardina
, we understand the importance of creating a cozy and inviting outdoor space, whether it's for relaxation, entertaining guests, or simply enjoying picturesque sunsets. As a leading expert in outdoor bliss,
Jardina
offers a wide range of patio furniture designed to elevate your outdoor living experience.
Flash Sale - Up to 30% Off on Outdoor Sofa Collection
To make this Independence Day even more special, Jardina has launched a flash sale exclusively on their outdoor sofa collection. With discounts of up to 30% off, now is the perfect time to give your patio a luxurious upgrade. Immerse yourself in comfort and style with our handpicked selection of sofas, available in various designs and materials to suit any aesthetic.
1. Unbelievable Savings of $600! Grab the Burano Sofa Set 5-Piece for just $2099 in our Flash Sale!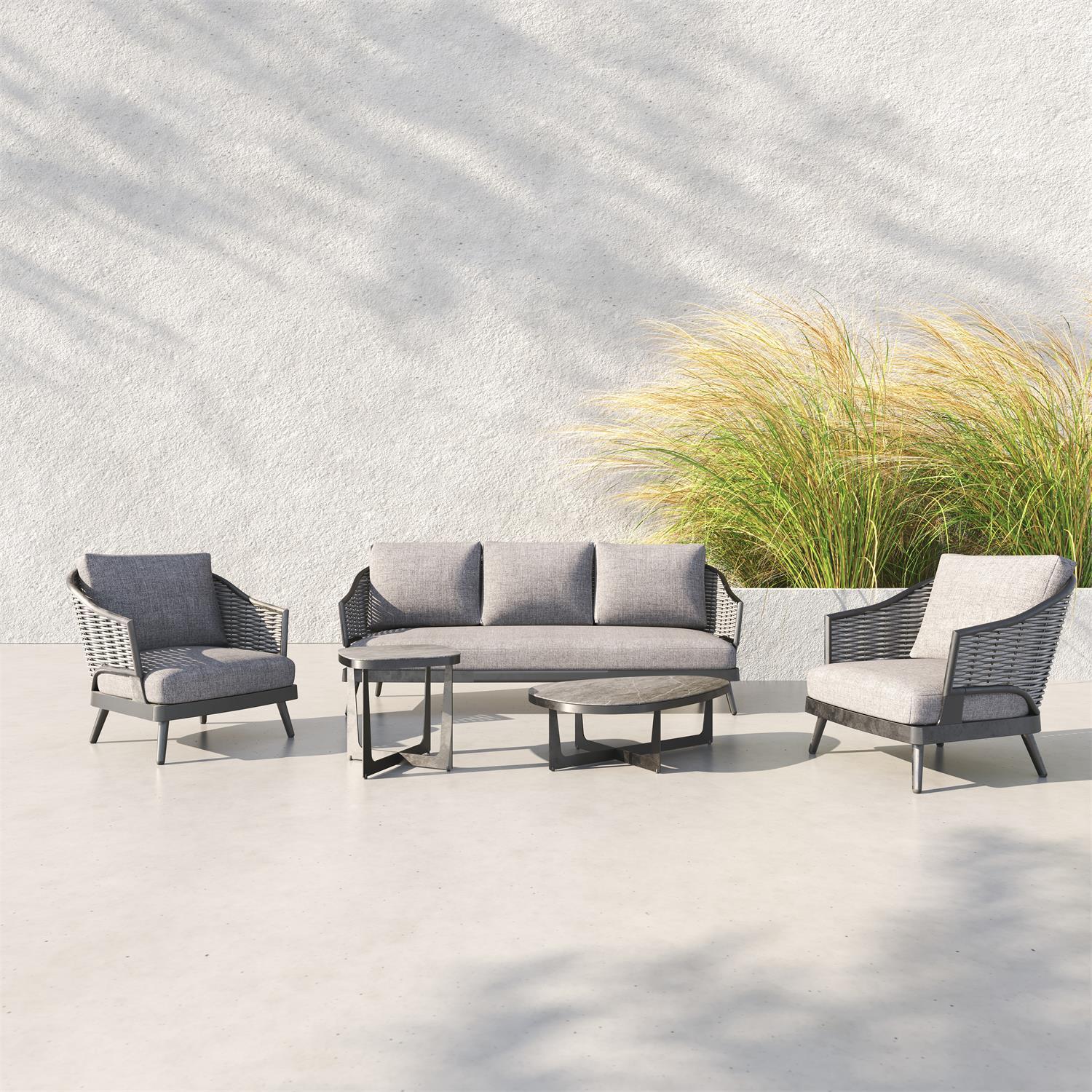 Pull up a Burano outdoor sofa and make yourself exceptionally comfortable. The Burano 5-Piece Patio Sofa Set is elegantly wrapped with weather-resistant rattan with three basic weaves, and a foundation of lightweight aluminum that offers solid support. It features a unique and stylish aluminum design for the two included coffee tables, providing a modern aesthetic to your patio space. This set is built with sturdy aluminum and weather-resistant grey fabric to ensure lasting quality. Plus, cushy waterproof cushions keep you comfy all day or night long.
Original price: $2,699.00 , Limited time offer: $2069 (July 3rd - July 4th)
Link: https://jardina.com/products/burano-5-piece-sofa-set
2. Experience Luxurious Comfort at Unbeatable Prices! Irati 5-Piece Sofa Set, now only $2349 in our Flash Sale - Save $950!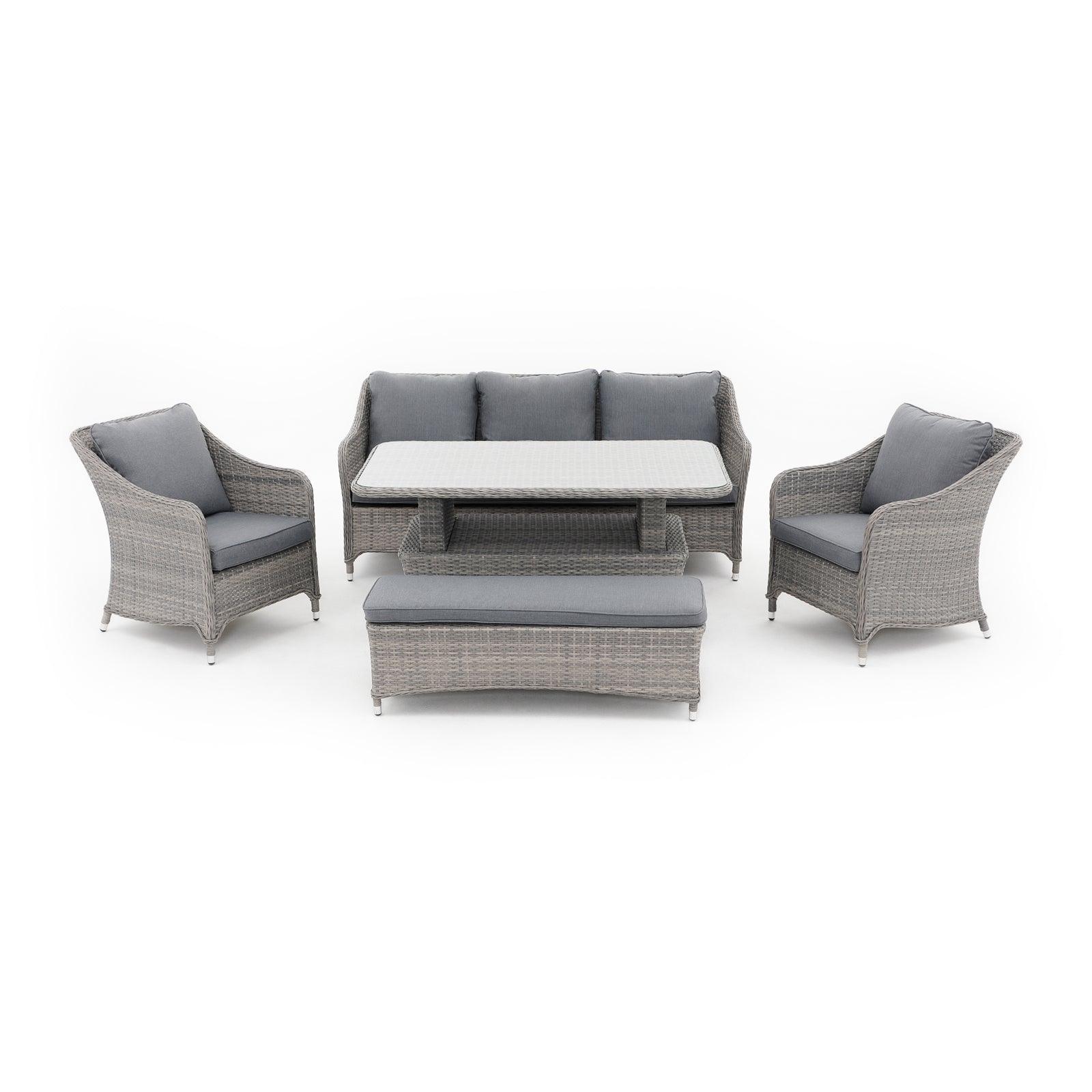 Three-Seater Sofa? Lounge chair? Bench? Dining Table? Irati brings the whole package. It comes here to customize bohemian and lounge. The Irati 5-Piece Wicker Outdoor Seating Set infuses your outdoor space with stylish comfort. The weather-resistant construction includes a sleek, sturdy table with a convenient lift-top lid and four comfortable chairs. The Irati is elegantly wrapped with weather-resistant rattan with three basic weaves, with a solid foundation of lightweight aluminum. Solid aluminum legs hold you steady but not too heavy, while plush, waterproof cushions keep you comfy all day or night long.Undoubtedly, Irati becomes Jardina's Exclusives.
Original price: $3299.00 , Limited time offer: $2349 (July 3rd - July 4th)
Link: https://jardina.com/products/irati-5-piece-dining-set-lift-top-dining-table
3. Unleash Affordable Luxury! Menorca Sofa Set Now Under $1000 - Only $840 in our Flash Sale!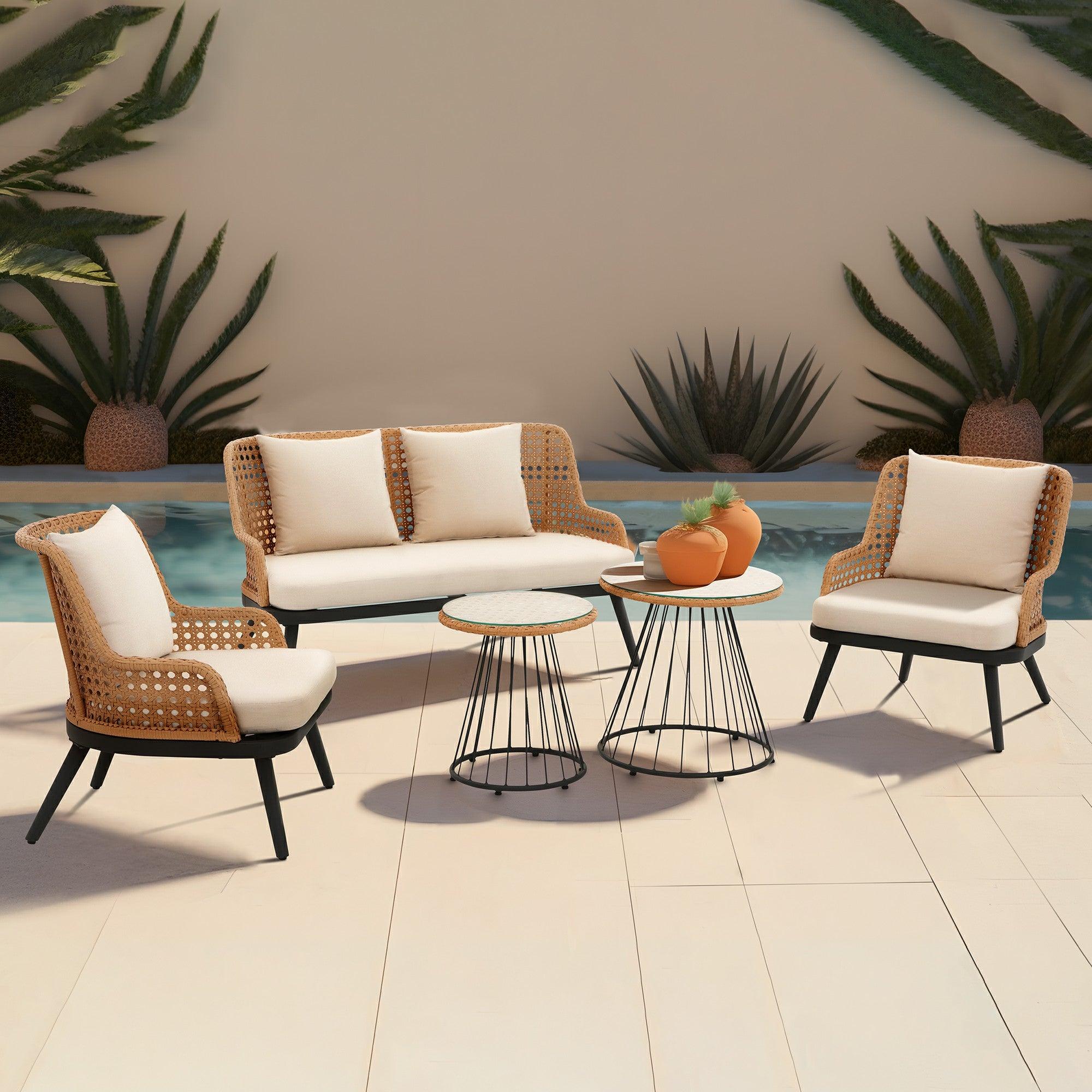 Can't make it to the Mediterranean? Bring European flair to your home with our Menorca 5-piece outdoor seating set. Menora beautifully contrasts light creamy hues against deep black steel frame accents, with innovative wicker handweaving that gives the outdoor lounge chairs the appearance of natural rattan cane webbing. Relax on plush cushions that will do your back a world of good, and set your beverages or snacks on two hollow side tables topped with 5mm tempered glass. Menorca table legs are not only sleek, they're smartly powder-coated to ensure stability and durability.
Original price: $1200.00 , Limited time offer: $840 (July 3rd - July 4th)
Link: https://jardina.com/products/menorca-4-piece-loveseat-set
4. Discover Boho Style at an Unbeatable Price! Oia 4-Piece Rattan Sofa Set - Now Below $500, Just $499 in our Flash Sale!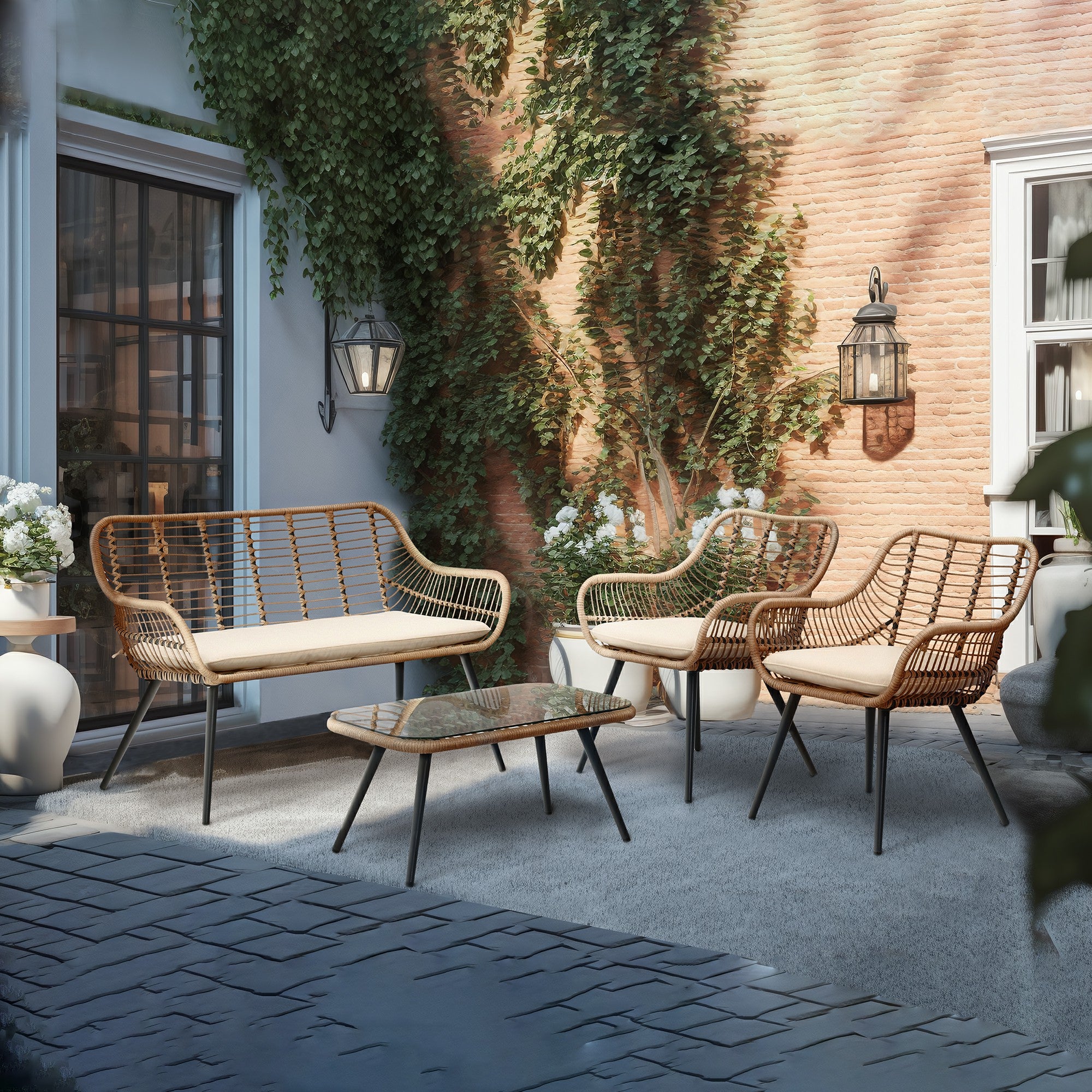 Greetings from Oia Outdoor Oasis. The Oia 4-Piece Wicker Outdoor Seating Set offers a stylish and versatile seating solution for your outdoor space. This set includes one loveseat, two armchairs, and an elegant glass-top coffee table for a complete lounge area. Constructed from resilient wicker, these pieces are designed for durability and will stand up to the elements. Create an outdoor escape to enjoy with family and friends with this attractive 4-piece set.
Original price: $599.99 , Limited time offer: $499 (July 3rd - July 4th)
Link: https://jardina.com/products/oia-4-piece-sofa-set-natural-rattan-design-coffee-table
5. Capri 5-Piece Grey Adjustable Backrest Sofa Set, save $460 in our Independence Day Flash Sale!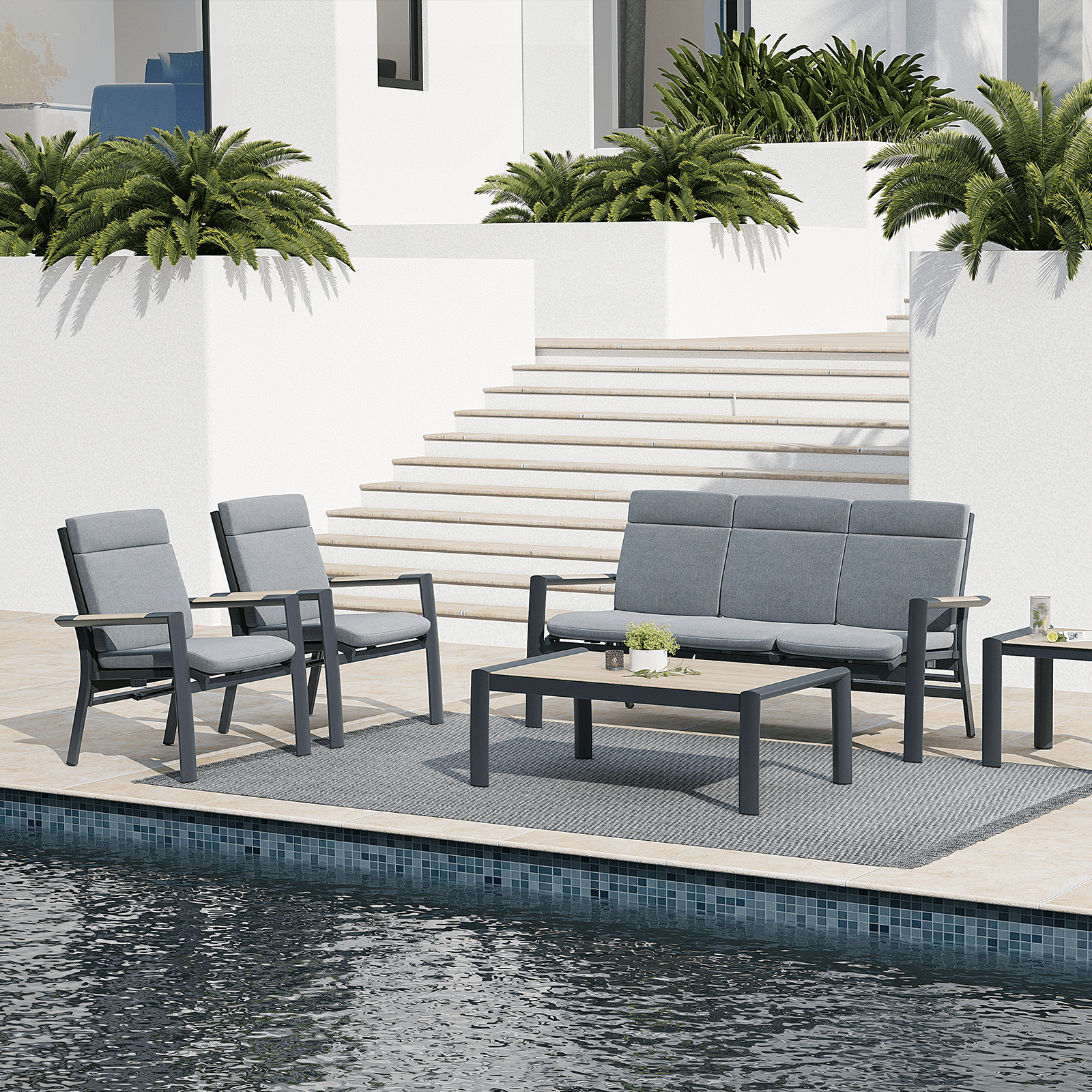 The classic, casual, chic and sporty style of the island of Capri is timeless—much like this 5-piece outdoor sofa set. Sit up, lie back and relax in unlimited reclining positions with adjustable backrests that make it all an easy reality. Sleek lines, soft grey cushions, and rich wood armrests and tabletop—backed by a durable aluminum frame—make this high-quality, elegant patio furniture, exclusively yours.
Original price: $2299.00 , Limited time offer: $1839 (July 3rd - July 4th)
Link: https://jardina.com/products/capri-5-piece-aluminum-adjustable-sofa-set
6. Save 20% on Comino 4-Piece Rope Sofa Set on July 4th!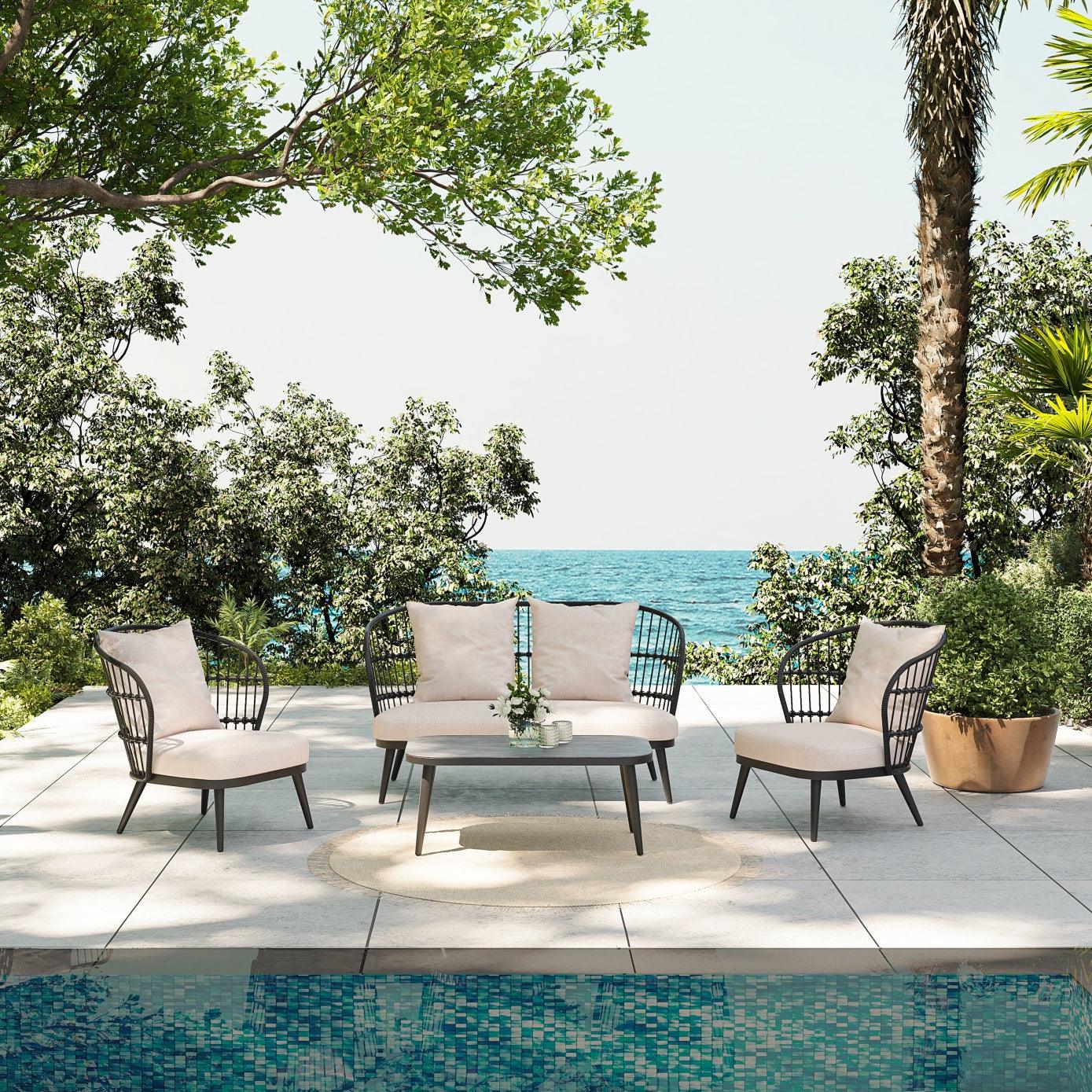 Love the shell design, but also crave industrial? The Comino 4-piece Outdoor Conversation Set caters to both styles, with an effortlessly designed combo of cushy and sleek. Start with a sturdy black aluminum frame wrapped in tightly woven rope, add super comfortable cushions and an oval table that invites drinks, snacks and good conversation, and the Comino is outdoor furniture, perfected.
Original price: $1429.00 , Limited time offer: $1159 (July 3rd - July 4th)
Link: https://jardina.com/products/comino-4-piece-sofa-set
7. Hallerbos 4-Piece Wicker Patio Sofa Set on sale for Independence Day, save $250!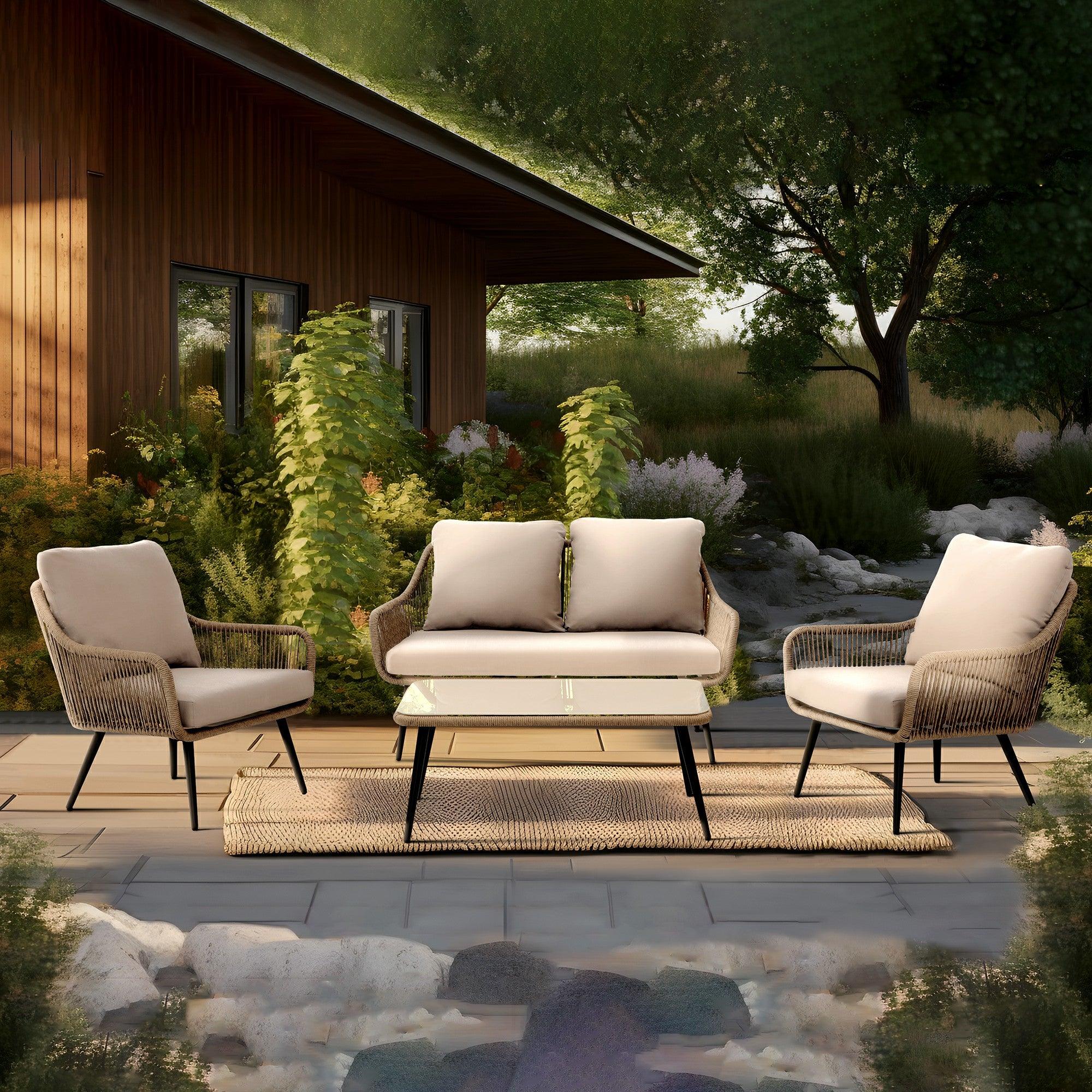 Say hello to a five-star outdoor lounge chair set. This stylish Hallerbos patio ensemble offers comfort and convenience, with a loveseat, two lounge chairs, and a coffee table — from its solid powder-coated steel frame wrapped in handwoven wicker to its curved armrest and high backrest, and plush yet durable fabric. Choose from two rattan colors that speak to your individual style, and relax in absolute comfort—your way.
Original price: $999.00 , Limited time offer: $749 (July 3rd - July 4th)
Link: https://jardina.com/products/hallerbos-sofa
8. Hallerbos L-Shaped Outdoor Sectional Sofa Set on Sale this Independence Day, save $350!
Make it a party! The Hallerbos L-shaped outdoor sectional is a whole new twist on outdoor seating! The L-shape fits perfectly in a corner or on its own anywhere in your garden or yard, or on our deck. Two footrests and plush gray cushions boost your comfort level. Better yet—use them for additional seating. Dinner anyone? The table beautifully complements the seating, with natural-colored, handwoven rattan and a solid-tempered glass top. A sturdy, powder-coated metal frame sets a strong foundation for years of lazy days and nights outdoors.
Original price: $1699.00 , Limited time offer: $1349 (July 3rd - July 4th)
Link: https://jardina.com/products/hallerbos-l-shaped-sectional-sets-beige-twisted-wicker
Get Inspired - Design Your Dream Patio

Creating the perfect patio involves more than just furniture; it's an opportunity to showcase your personal style and transform it into an oasis. Jardina understands this, which is why our collection encompasses a range of furniture pieces that can be mixed and matched to suit your taste. From elegant dining sets to stylish loungers, our selection allows you to design your dream patio effortlessly.

Quality and Durability - Built to Last

Investing in outdoor furniture shouldn't just be about aesthetics – durability matters too. Jardina takes pride in crafting furniture that is built to withstand the elements and the test of time. Our materials are carefully selected to ensure longevity, resilience, and easy maintenance, so you can enjoy your patio furniture for years to come.

Unleash Your Creativity - Accessories and Accents

Complete the look of your outdoor space with Jardina's range of accessories and accents. Add pops of color with vibrant outdoor cushions, create a cozy atmosphere with outdoor rugs, or bring charm with decorative planters. These thoughtful touches will elevate your patio and make it a perfect gathering spot for family and friends.
------------------------------------------
This 4th of July, take advantage of Jardina's Patio Furniture Sale to transform your outdoor space into a haven of comfort and style. With our exclusive flash sale on the outdoor sofa collection, you can save up to $950 on your purchase. Explore the versatility, durability, and high-quality craftsmanship that Jardina offers, and design your dream patio that will be the envy of all. Don't miss this opportunity to celebrate Independence Day in style and embrace the true essence of outdoor bliss. Visit Jardina today and unlock the endless possibilities for your outdoor oasis. Happy Fourth of July!