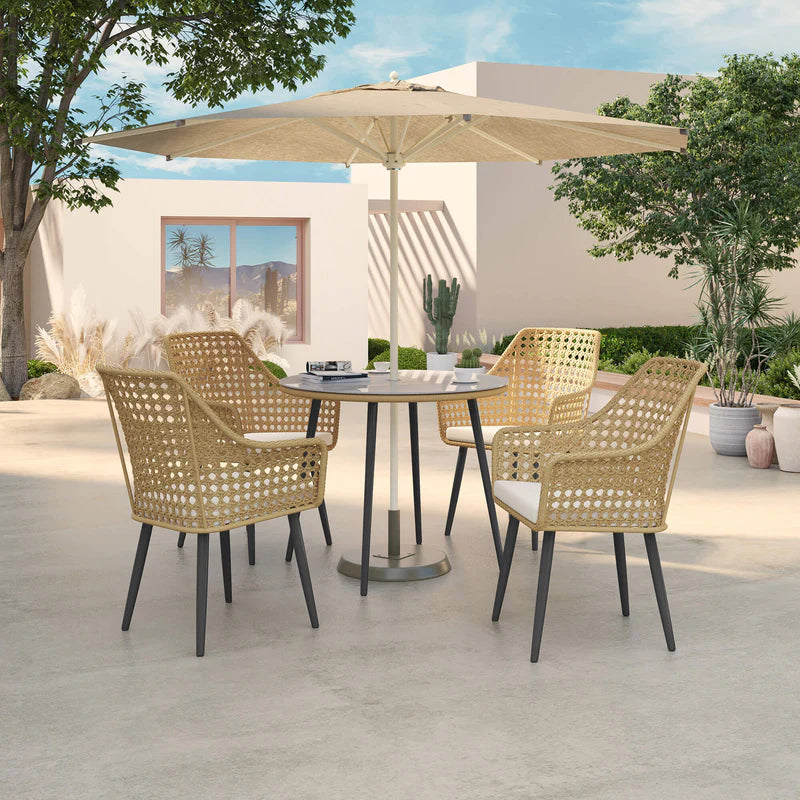 Wicker Outdoor Dining Sets At Jardina
At Jardina, our commitment to excellence is reflected in our Wicker Outdoor Dining Sets. Each set is meticulously crafted using high-quality HDPE wicker, known for its exceptional durability and weather resistance. Our sturdy frames come in your choice of aluminum or steel construction, ensuring long-lasting performance and structural integrity.

We take pride in offering a diverse range of styles and designs to suit every taste and outdoor aesthetic. Our color palette predominantly features elegant shades of grey and natural tones, providing a seamless blend with your outdoor environment.

For those looking to create an intimate dining experience for smaller families or gatherings, our round tables with convenient umbrella holes are the perfect choice. They not only add a touch of sophistication but also offer a practical solution for shading during sunny days. If you're hosting larger gatherings or have a big family, our spacious rectangular tables are designed to accommodate up to eight people comfortably. These tables not only provide ample seating but also become the centerpiece of your outdoor space, enhancing both functionality and aesthetics.

When you choose from our selection of Wicker Outdoor Dining Sets, you're making an investment in style and durability. Elevate your outdoor dining experience with furniture that not only stands up to the elements but also enhances the beauty of your outdoor area, creating memories to cherish for years to come. Experience the Jardina difference today.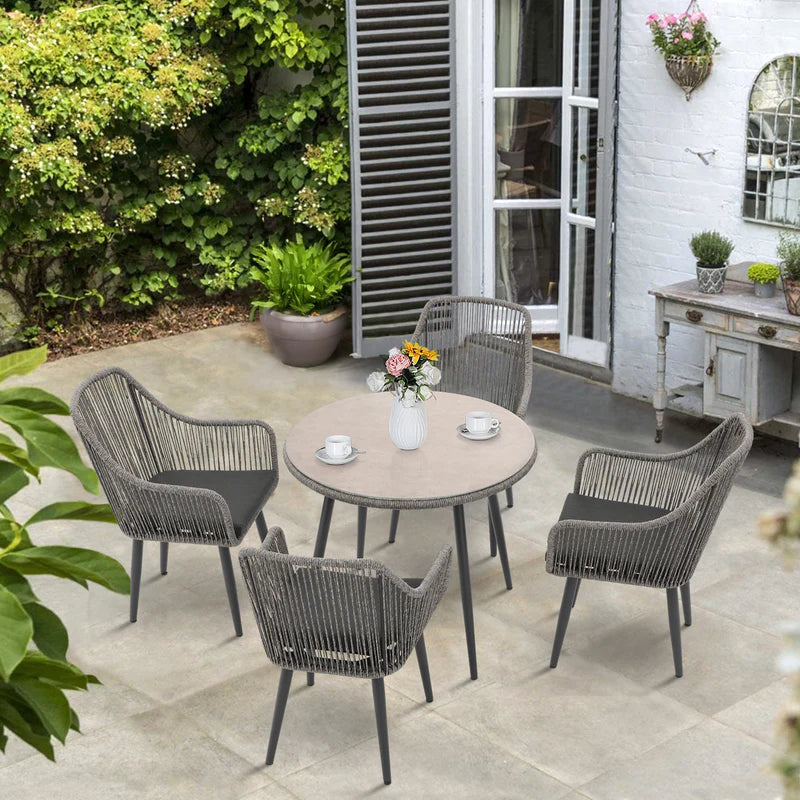 Why Choose Wicker Outdoor Dining Sets?
Wicker Outdoor Dining Sets offer a remarkable value proposition when compared to other materials. In terms of price, they are more cost-effective than aluminum and teak. When it comes to weight, they are lighter than wrought iron. Regarding quality, wicker surpasses plastic and wrought iron by a considerable margin. In terms of durability, you can expect these sets to last 5-10 years easily.

For outdoor wicker furniture, synthetic wicker materials are commonly used, and these wicker synthetic materials come in various types such as PVC, PE, Resin, HDPE, and more. Among these, HDPE stands out as the highest-quality material for synthetic wicker, and it is environmentally friendly due to its recyclable nature. Jardina's premium wicker furniture is crafted exclusively from commercial-grade, hand-woven HDPE wicker, and it is offered at an affordable price.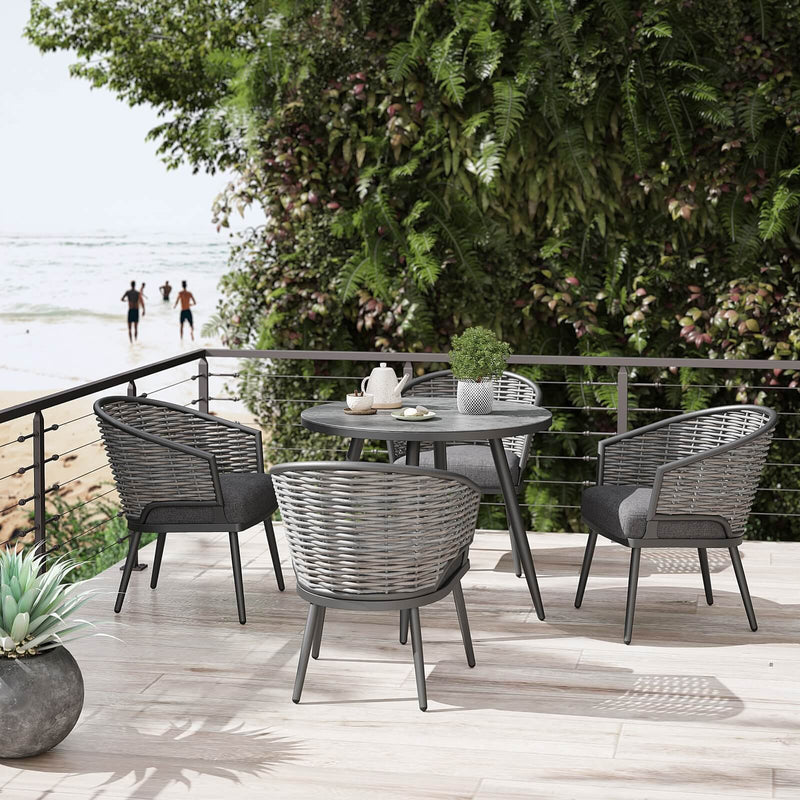 Care For Wicker Outdoor Dining Sets
Wicker outdoor dining set is weather-resistant in most cases, and there is a minimal amount of care that you have to undertake. While wicker outdoor dining set is sturdy and can stand quite a deal of damage, regular maintenance and care can significantly extend its life. Regularly clean the wicker surfaces with a mild soap and water solution, using a soft brush or cloth to remove dirt and dust. Avoid using abrasive cleaners that can damage the wicker.

On the patio, if the furniture is subject to constant sunlight, the wicker could dry out and become easily breakable, considerably reducing its durability and overall quality, as such, something as simple as a stationary patio umbrella could keep cool both the furniture and those enjoying it.

Water damage is another thing to watch out for when keeping your wicker dining sets outdoors. During inclement weather conditions, you can protect the wicker outdoor dining sets with the patio furniture covers. Made from heavy-duty materials, these all- season covers will shield furniture from dirt, debris, water build-up, and excessive sun exposure.

For cushions, store them indoors when not in use to protect them from the elements. With these simple care practices, your wicker outdoor dining sets will stay looking great for years to come.