Outdoor furniture is typically made from a variety of materials such as wicker, aluminum, teak, and wrought iron. Among them, the most popular is wicker because it offers the best value for money. However, when it comes to using wicker for producing outdoor furniture, it usually refers to wicker synthetic materials. This is because natural wicker is not weather-resistant enough to be used outdoors. Therefore, synthetic wicker is often preferred as it is designed to withstand harsh outdoor conditions and provide excellent durability and low maintenance. It also allows for greater design flexibility and color options compared to natural wicker. 
What are some common synthetic wicker materials used for outdoor furniture?
Common types of wicker synthetic materials for outdoor furniture include PVC, PE, HDPE and resin, each with their own unique characteristics and advantages. 
PVC (polyvinyl chloride): commonly used to make low-cost wicker furniture, easy to clean and maintain, but less durable than other synthetic materials.

PE (polyethylene): more durable, with a slightly higher hardness. Wicker furniture made from PE is lighter and easier to move.

HDPE (high-density polyethylene): even more sturdy and durable than PE, with a softer texture and better resistance to sunlight.

Resin: also known as a liquid plastic, this material is sometimes referred to as "weather-net." It has higher strength and durability compared to other synthetic materials and can even mimic the look and texture of natural materials such as rattan and wood.
What is HDPE synthetic material?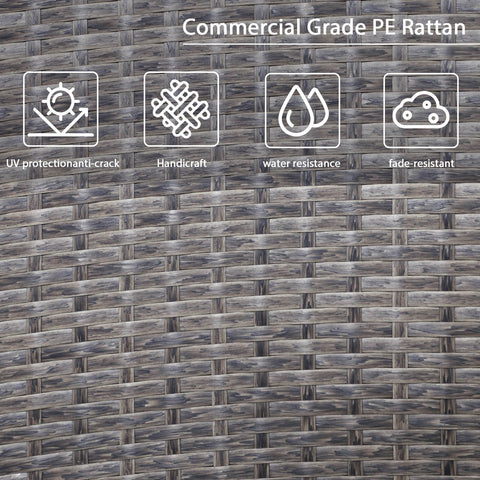 HDPE is a type of synthetic material commonly used in the production of outdoor furniture. HDPE stands for high-density polyethylene, which is a type of plastic material that is known for its durability, strength, and eco-friendliness. HDPE wicker is created by weaving together strands of this plastic material to create a wicker-like texture. 
Then, Why Choose HDPE Wicker For Outdoor Furniture?
HDPE wicker is a popular material choice for outdoor furniture due to its many benefits.

Firstly, HDPE wicker is highly durable and weather-resistant with the ability to withstand exposure to harsh sunlight, strong winds and rain without fading, cracking or warping. This makes it an ideal material for outdoor furniture that may be exposed to the elements. Based on the test, high-quality resin wicker furniture is expected to last 10-15 years.

Secondly, HDPE wicker is low maintenance and requires minimal upkeep. It is easy to clean and can be wiped down with a damp cloth to remove dirt or dust.

Thirdly, HDPE wicker is an eco-friendly material as it is made up of recycled plastics and is 100% recyclable at the end of its lifespan.

Lastly, it is a versatile material that can come in a range of different colors, styles and textures to match any outdoor decor.

With all these benefits, HDPE wicker is an excellent choice for outdoor furniture and continues to be a top pick for many homeowners and commercial property owners alike.
All of Jardina's wicker furniture is made of HDPE, ensuring long-lasting durability.There is a number of outdoor furniture on our website such as curved sectionals, dining sets, bistro sets and lounge chairs. All Outdoor Furniture sets have been manufactured to help you make the most of your cherished moments; from having a glass of wine to relaxing on the loveseat with family and friends. Come and get a seating set at an affordable price.